Last Year's Champions Atletico Madrid Fight for Survial in Moscow vs. Rubin in the 2nd Leg of the UEFA Europa League Round of 32 - Game Notes and Odds
Update: Final Score -
Rubin vs. Atletico 0-1
--
Rubin are hosts to Atletico in the 2nd leg of the UEFA Europa League round of 32 at the Stadion Luzhniki in Moscow on Thursday, February 21st, 2013.
Rubin stunned Atletico in Madrid last week by winning 0-2 and breaking the UEFA Europa League title holder's 19 home game winning streak. Rubin accomplished this feat playing with 10 men for the entire 2nd half of the game.
Atletico now will be looking to score 3 or more goals in Russia against a team who has not been beaten in Europe this year. Is it possible?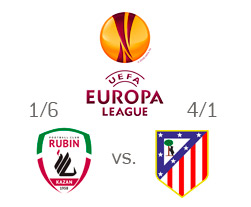 Rubin Kazan 1/6
Atletico Madrid 4/1
This means that a $100 wager on Rubin to qualify to the round of 16 would bring in a profit of $16 while the same bet on Atletico could potentially bring in a profit of $400.
Atletico won this competition last year and their star player Falcao was the highest scoring player in the tournament that year and the year before. They are going to have to go all out in this game and will most likely attack from the very first minute.
Atletico qualified for the round of 32 by coming in 2nd out of Group B behind Viktoria Plzen and ahead of A. Academica de Coimbra and Hapoel Tel-Aviv. They are currently in 2nd place in the Spanish La Liga behind Barcelona and ahead of Real Madrid and in the semi-finals of the Copa del Rey (Spanish Cup).
Rubin are in 7th place in the Russian Premier League at the moment and they qualified for the round of 32 of the UEFA Europa League by winning Group H ahead of Inter Milano, FK Partizan Belgrade and Netfci PFK. Rubin have lost only twice in their last 20 European home games.
This will be an interesting matchup as we get to see last year's champions fight for survival in the cold temperatures of Russia.