Fernando Torres Makes Headlines After Scoring Twice vs. Real Madrid in Copa del Rey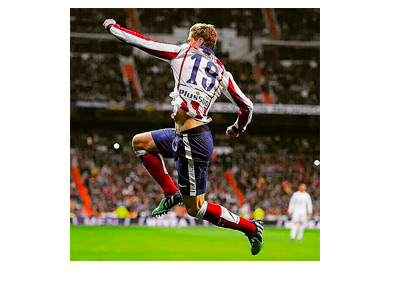 Before the start of the 2nd leg Copa Del Rey match at the Bernabeu stadium on Thursday night, no one expected Fernando Torres to be in the starting line-up of Atletico Madrid. Debuting, after his return to his boyhood club, in the 1st leg of this encounter on 7 January against Real Madrid at the Calderon, the 30-year old striker didn't get a single shot at the goal and had to be replaced by Koke in the 59th minute. But yet he was there on Thursday, in place on an indisposed Mario Mandzukic.
With play not even into the first minute, the proceedings saw Antoine Griezmann darting down the left flank, execute a perfect cross eluding both Pepe and Ramos and find an unmarked Fernando Torres, who unleashed a perfect shot to right corner of the net. Los Blancos down 0-1 in the 47th second; stunned silence among the Real fans at Bernabeu. Equally stunned were Los Rojiblancos fans themselves at the Torres opener. El Nino who had never found the net at the Bernabeu got a second one immediately within a minute after half-time. Again collecting a Griezmann pass, he wrong-footed Pepe before sliding one under Real keeper Navas. For Atletico fans this was a moment of great celebration. Nearly 45,000 of them had turned up at Vincente Calderon to watch El Nino's unveiling ceremony on 4 January.
By scoring the brace of goals, Torres put the match beyond the reach of Real Madrid's reach. Having won 4-2 on aggregate, Atletico have progressed to the next stage of the Copa del Ray where they meet Barcelona. The spotlight will definitely be on Fernando Torres - Version 2.0.