Real Madrid - The World's Richest Club and the Most Famous Football Brand
In this article we will break down the financials of the world's richest football club in the 2011/12 season using the accounting data from the 'Deloitte Football Money League 2013' report (see link at the bottom).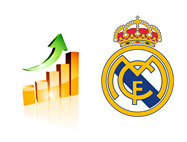 This club of course is Real Madrid.
Real Madrid are football's top earning club for an 8th consecutive season. In 2011/12 they had revenues of €512.6m which is a €33.1m or 7% increase compared to the year before.
Real Madrid had a phenomenal season on and off the pitch last year.
They won the Spanish League with 100 points, which is a first for any club in the 'big five' European leagues. Real Madrid also made it to the semi-finals of the UEFA Champions League.
The club has announced 'Proyecto Bernabeu', a plan to increase capacity of the Santiago Bernabeu stadium to include more seating and also more corporate hospitality. Matchday revenues have increased by €2.6m (2%) to €126.2m compared to the previous year.
Real Madrid's broadcast revenues increased by €15.7m (9%) to €199.2m thanks in part to playing friendly matches in the US, China, Kuwait and across Europe.
Real Madrid's commercial revenues have increased by €14.8m (9%) to €187.2m due to an increase in sale of merchandise and their agreements with Emirates Airlines and the Spanish banking group BBVA. Real Madrid also extended their kit deal with Adidas and have an ongoing contract with the online gaming company bwin.
The Real Madrid brand is growing despite difficult economic times in Europe and Spain. World's top brands continue to align themselves with the world's most popular football club.
If Real Madrid retain their number one spot in the 2012/13 season they will break the record they are currently sharing with Manchester United and be the world's top revenue team for 9 consecutive seasons.
Real Madrid are the first team to break the €500m revenue mark in one season.
Real Madrid are the world's best football brand period.
Source:
Deloitte Football Money League 2013