Real Madrid vs. Sevilla - February 9th, 2013 - Betting Odds and Recent Performances
Update: Final Score -
Real Madrid vs. Sevilla 4-1
--
The third place Real Madrid are hosts to eleventh place Sevilla in the 23rd round of the Spanish La Liga on February 9th at Santiago Bernabeu in Madrid.
This is an interesting match considering Real Madrid's poor performance in their last game vs. Granada and the fact that Sevilla beat Real at home 1-0 in the league earlier this season. Another interesting fact is that this is Real Madrid's last test before they host Manchester United in the 1st leg of the UEFA Champions League round of 16.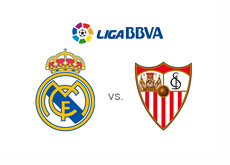 Real Madrid 1/3
Draw 17/4
Sevilla 7/1
Real Madrid are huge favourites. A $100 bet on Real yields a total of $133 while the same bet on Sevilla yields a total of $800.
In addition to drawing 1-1 with Barcelona in the 1st leg of Copa del Rey semi-finals in Madrid on January 30th, in the league Real Madrid destroyed Valencia 0-5 on Jan 20th, beat Getafe 4-0 on Jan 27th and then surprisingly lost to Granada 1-0 on February 2nd.
Which Real Madrid will we see in the game vs. Sevilla? Will they even bring out their best team considering they are out of the domestic league title picture and they are playing their most important match of the season yet just four days later?
Sevilla on the other hand lost to Atletico Madrid 2-1 in the 1st leg of the other Copa del Rey semi-final while in the league they tied Getafe on Jan 19th, beat Granada 3-0 on Jan 28th and won vs. Rayo 2-1 on Feb 3rd. This match means a lot to Sevilla because they have some climbing to do in the league if they want to secure a spot that goes to Europe next season.
There is a possibility that we will see these two teams again in the Copa del Rey finals if Real can get past Barcelona and Sevilla past Atletico Madrid.
This should be an interesting game from a betting standpoint.
--
Note: Sevilla will be without one of their best players Ivan Rakitic, who was sent off with a red card (double yellow) in their last league match vs. Rayo.