Betting Odds for Real Madrid vs. Borussia Dortmund - UEFA Champions League Semi-Finals - April 30th, 2013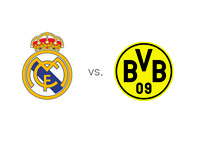 Real Madrid are hosts to Borussia Dortmund in the second leg of the UEFA Champions League semi-final at Santiago Bernabeu on Tuesday, April 30th, 2013 with a kick-off at 20:45 CET.
Real Madrid have a mountain to climb against Borussia as they try to overcome a 4-1 deficit from the first leg match in Dortmund. Immediately after watching Borussia dominate every aspect of the first leg game, not many gave Real Madrid much of a chance to qualify to the finals.
Over the last few days emotions have calmed down a little and the line originally posted at +450 for Real Madrid to qualify moved down to +400 (Bet $100 to profit $400). The odds for Borussia to qualify are presently at -550 (bet $100 to profit $18).
Real Madrid are the favourites to win on Tuesday at -154 (bet $100 to profit $65) while Borussia are at +400 (bet $100 to profit $400). The odds of Real Madrid beating Borussia 3-0 and qualifying are at +1400, while the odds for a 4-1 scoreline that would force overtime are at +1800.
This will be a very interesting game. What lineup will Jose Mourinho field is a big question. Will it be all-out-attack from the start or will he stick to the usual formation to start the game? What position will Ronaldo play after not seeing much of the ball on the left side last week?
The odds of Ronaldo scoring on Tuesday are very high at -250 (bet $100 to profit $40) while Higuain and Benzema are at -110 (bet $100 to profit $90). Robert Lewandowski, who found the net four times in the first match, has the highest odds of scoring for Dortmund at +125 (bet $100 to profit $125) followed by Bajner and Reus both at +225.
The Over 2.5 (total goals scored) is set at -275 (bet $100 to profit $36) while the Under 2.5 is set at +210. Looks like most are of the opinion that will be a lot of goals scored in Madrid.
This should be an awesome match.