Real Madrid Reports Record Revenues in the 2012/13 Season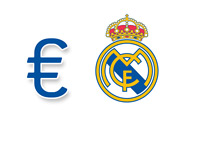 The Board of Directors of Real Madrid C.F., published the club's financials from the 2012/13 season on their website on September 5th, 2013.
According to the numbers, the club posted record revenues in the amount of 520.0 million Euros. This is a +1.3% increase compared to the previous season when the club revenues were 514 million Euros. The net profit amount was 36.9 million Euros, which is a 52.4% increase compared to the previous season. Real Madrid net debt has also shrunk by 27.4% and it currently sits at 90.6 million Euros.
Things are looking good for Real Madrid with Florentino Perez handling the finances. Perez returned to be the club's president in 2009, during difficult financial times, and has since turned things around.
Real Madrid is the only sports entity in the world which surpassed the 500 million Euros revenue mark for the second consecutive year.
It should be noted that the numbers above do not include the 2013 summer transfers, which saw Real Madrid spend 180 million Euros on new arrivals and receive 115 million Euros from player sales.
The details of the club's finances in the 2012/13 season can be found
here
.