Can Radamel Falcao Turn Things Around at Manchester United?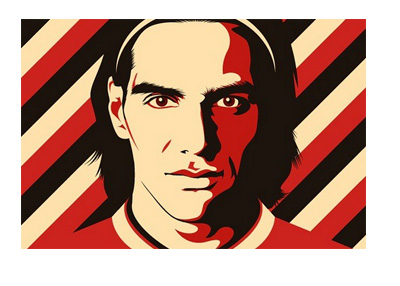 Falcao's spell at United isn't going as well as many United fans must have expected. After missing a couple of chances against QPR on Saturday, Falcao's chances of staying at Old Trafford past this summer look grim. In all competitions, the former Porto striker has scored just three goals for Manchester United.
Falcao's loan spell at the 20-time English champions hasn't been a very glorious one. After 22 games played in the league, the Colombian has shown signs of his genius, but he has been a very inconsistent performer because of the injuries or being benched. The man nicknamed, El Tigre has played only 12 matches, in which he has scored three goals and provided three assists. He hasn't had much game time with his new teammates as the competition in the forward line is quite intense at United. The Red Devils' boss is using RvP and Wayne Rooney as his main strikers, and the former Barcelona coach is also quite keen to give chances to the young striker named James Wilson.
The 28-year-old looks determined to prove his worth each time he dons the red jersey of Manchester United. He puts in a great effort and seems very eager to hang about at the club past this summer. Some blame of his not-so-satisfying numbers in front of the goal could be because of the poor service he gets from United's midfield players. LVG's side has struggled because of the injuries and therefore a lot of permutation and combinations have been tried.
Since last week, there have been plenty of rumors regarding the falling out between Van Gaal and Radamel Falcao as the Colombian skipper wasn't picked in the 18-man squad against Saints. United's gaffer has a very clear intent regarding the situation of Falcao. According to him, one of his highest earners, Falcao will be given a full contract only if his performances, until the end of the season, are up to the mark.
"He (Falcao) has to prove himself, that we have agreed," LVG said in his pre-match conference. "Because of that we have made this deal and everything is clear. It is not the end of the year so he has a chance.
"It is the quality of the training sessions and quality in his matches and I have to have a game plan," he added. "I explained it after the Southampton game. If a player cost £95m or £5,000 it makes no difference to me. You have to prove yourself and a player of £95m has to prove himself too."
It certainly sounds fair, but will the striker get enough time on the pitch to prove his worth? That we will discover in the coming months. When the United manager was asked if the Colombian could feature against QPR, he said that it won't be wise to let his line up known for Harry Redknapp to take advantage.
"Is his morale good? I think so," added van Gaal. "You will have to wait and see if he plays. Because if I say that then part of my line-up his known. Then I make it easy for my opponent and I don't want to make it easy.
"There is no doubt that Falcao was one of the most prolific strikers in the world. At Atletico, he scored a whopping 52 goals in just 68 games, whereas for Porto he scored 41 in just 51 appearances. His goals per game ratio is extremely notable and he has already proven his worth in four major leagues of the world. It is a possibility that if Manchester United doesn't buy him at the end of his loan spell, many of their rival teams in the Premier League might tempt him to sign for them.