Top Goalscorers Across European Leagues in 2014/15 - The Race for the Golden Shoe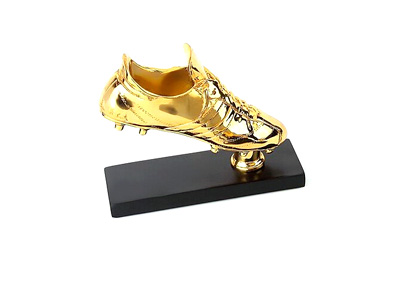 Cristiano Ronaldo's 5-goal barrage against Granada in Sunday's La Liga clash has catapulted the Real Madrid striker to a tally of 36 goals this season in the Spanish League. With a factor of 2 assigned to the La Liga, Ronaldo finds himself in the first place in the race for the European Golden Shoe with 72 points. Lionel Messi with 32 La Liga goals has accrued 64 points to his name and is second in line for the coveted award.
The rights of the Golden Shoe is owned by European Sports Media (ESM). The Golden Shoe award is based on a UEFA coefficient-list points-system that assigns the maximum of 2 points for each goal scored by a player in the toughest Leagues of Europe, viz. The English Premier League, Spanish La Liga, German Bundesliga and Italian Serie A. A goal scored in the French Ligue 1 is surprisingly assigned 1.5 points although being one of the major leagues of the continent. Incidentally only three top teams of the Ligue 1 make it to the UEFA Champions League while the top four of the other major leagues qualify for the tournament. Goals scored in the leagues of Netherlands and Austria are ones that carry a factor of 1.5 points. There are clubs of nations where goals scored carry a weightage/factor of 1.0., which means UEFA rates those leagues very lowly and rarely are there entrants into the Champions League or even the Europa League from among them. For instance Igor Subbotin scored as many as 32 goals for the Estonian club Levadia Tallinn in 2014 but scores the same number of points as the number of his goals by virtue of the factor being just 1.0. The same factor applied to Joe Gormley of Cliftonville FC of Northern Ireland who scored 31 goals for the same period.
As for the ultimate winner of the Golden Shoe, it looks like Cristiano Ronaldo has his sights on the award for a third time after his wins in 2007-08 and 2010-11. Messi will have to do some serious catching up. With not too many games of the 2014-15 season left, the 4-goal gap with his bitter Real Madrid rival may not be very easy to breach. The Barcelona talisman had won the Golden Shoe for 2011-12 and 2013-14 seasons.
Below is the list of latest rankings