QPR vs. Manchester United Odds - English Premier League
Update: Final Score -
QPR vs. Man Utd 0-2
--
On Saturday February 23rd, 2013 at Loftus Road Stadium, last place QPR are hosts to first place Manchester United in the 27th round of the Barclay's Premier League.
QPR need something out of this match as they are at the bottom of the tables and in serious danger of relegation. The problem is that they are playing against Manchester United, one of the best teams in Europe this season, who also crave points in order to solidify their spot at the top.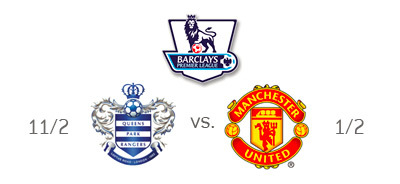 QPR 11/2
Draw 10/3
Man Utd 1/2
This means that a $100 bet on QPR could potentially bring in a profit of $550 while the same bet on Man Utd could bring in $50 in profit.
Manchester United are huge favourites to win despite the fact that they will be playing without Phil Jones (injury) and very possibly their star striker Wayne Rooney (fitness).
In their last three matches, Manchester United beat Everton 2-0 in the EPL, tied Real Madrid 1-1 in the UEFA Champions League and most recently beat Reading 2-1 in the FA Cup.
QPR lost to Swansea 4-1 most recently after drawing with Norwich 0-0 and Manchester City 0-0 at home. All three were English Premier League matches.
Queens Park Rangers also tied Tottenham at home 0-0 earlier this year as well as beat Chelsea 0-1 at Stamford Bridge, so they are definitely capable of surprising Manchester United this weekend.
Manchester United's last league loss came against Norwich back in mid November of 2012.
Can QPR surpise like they did against Manchester City, Tottenham and Chelsea?
Will Manchester United take this game seriosuly enough knowing that they are hosting Real Madrid on March 5th in the Champions League?
Should be an interesting match.
When Manchester United hosted QPR on November 24th the score was 3-1.