Paris Saint-Germain vs. Olimpique Marseille Odds - Ligue 1 Matchup
First place Paris Saint-Germain are hosts to their bitter rivals and third place Olympique Marseille at the Parc des Princes stadium in Paris in the 26th round of French Ligue 1.
PSG have 51 points after 25 matches while Marseille have 46. In between them is Lyon with 48 points. First two spots out of Ligue 1 are guaranteed a spot in the UEFA Champions League while the 3rd place team will have to go through additional qualifying rounds. This is a big game for both teams. PSG want to keep their number 1 spot while Marseille are fighting for 2nd.
The upcoming derby between PSG and Marseille or 'Le Classique' as they call it in France is very likely to be David Beckham's debut in the PSG jersey. The media hype around Beckham's arrival is reaching feverish heights. Canal+ will have a specially-dedicated 'Beck'Cam' in place for the Ligue 1 Classique.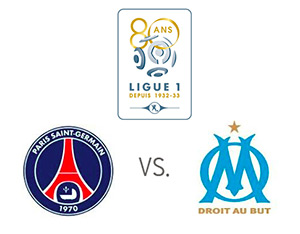 PSG 8/15
Draw 11/4
Marseille 6/1
PSG are big favourites to win. A $100 wager on PSG could bring $53 in profit while the same bet on Marseille could potentially bring in $600 in profit.
PSG most recently lost to Sochaux 3-2 in the league after beating Valencia 1-2 in the UEFA Champions League and Bastia 3-1 in the domestic league. Zlatan Ibrahimovic is on fire and has scored 21 goals so far in 25 Ligue 1 matches.
Marseille most recently beat Valenciennes 1-0 after a 1-1 draw with Evian Thonon and an away 0-1 win vs. Nancy. The top scorer for Marseille is Andre-Pierre Gignac with 8 goals.
This match is a chance for PSG to prove their dominance domestically and make a statement vs. Marseille as the two teams clash again on Wednesday in the round of 16 of the French Cup.
Can Marseille surprise the star-studded PSG?