Game Preview: Valencia vs. Atletico Madrid - Spanish La Liga - Sunday, 27/04/2014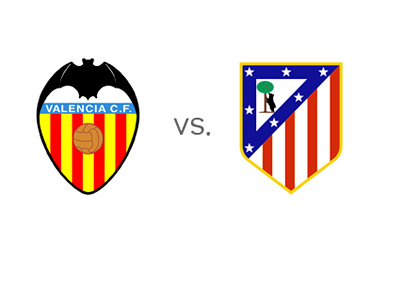 There are four games left in the Spanish La Liga season. If Atletico Madrid win three, they will win the title for the first time since 1995/96. Next stop is Valencia.
Valencia just went down 2-0 in the first leg of the UEFA Europa League semi-final to Sevilla. In the quarter-finals, they miraculously came back from a 3-0 first leg deficit, to eliminate FC Basel in overtime. On the home front, this has been somewhat of a disappointing season for Valencia. They are eight in the league, with a low percentage chance of making it to the Europa League next season. In the Copa del Rey, they were eliminated in the round of 16 by their Sunday's opponent, Atletico Madrid.
Atletico Madrid are coming off a frustrating 0-0 draw vs. hard defending Chelsea FC in the first leg of the UEFA Champions League semi-final. Other than that, Atletico are a winning machine and the current favourites to win the Spanish La Liga this season. They have won their last nine league games, scoring thirteen goals while conceding one. In the UCL quarter-finals, they eliminated Barcelona FC, 2-1 on aggregate. Atletico made it to the semi-finals of the Copa del Rey this season, where they lost to Real Madrid.
The betting odds for the upcoming game are:
Valencia: 10/3
Draw: 11/4
Atletico Madrid: 3/4
Goalscorer odds:
Diego Costa: 6/5
David Villa: 7/5
Lopez Adrian: 2/1
Oliveira Jonas: 10/3
--
Atletico are the favourites to win the next match. This is a big game for them. A must-win if they are to win the title before traveling to Camp Nou, where they face Barcelona in the last round of games.
Atletico have been fantastic this year. Now it's crunch time. Can they see things through?
Let's see how it all plays out!