Game Preview: Monaco vs. Arsenal - UEFA Champions League - Round of 16 - Second Leg - Tuesday, 17/03/2015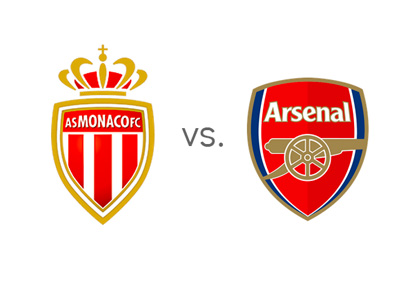 While it will always bedevil Arsenal fans as to how their team let in 3 goals in their own backyard against a defense-oriented Monaco, there's no saying that the Gunners have no option but to let everything loose when they face the Ligue 1 club in their return clash of the UEFA Round of 16 at Stade Louis II on March 17 night. But post the 1-3 humiliation at the Emirates, things seem to be on the roll for the Gunners. They have won all their four encounters since then, including a significant 2-1 win against Manchester United in a FA Cup quarter-final , averaging a healthy 2 goals per match.
Monaco are among the least goal-hungry teams in the French League. While they can take the satisfaction of being placed 4th in the League standings, they have scored just 32 times from their 28 matches. Compare that to third-placed Marseille who have 56 to their name. Even 15th placed Lorient has a goal more than Monaco. But coach Leonardo Jardim has utilized his strikers Berbatov and Valere Germain to full potential. Coupled with that is a stodgy and determined defense not willing to let in goals making them probably one of the hardest teams to score against.
Olivier Giroud and Danny Welbeck will have to keep up their recent goal-scoring form and cannot afford to squander chances the way they did in the first leg in February. David Ospina will have to forget the horrors between the posts of that fateful evening. Per Mertesacker will have to be sharper in defenses as the likes of Dimitar Berbatov will be looking forward to exploit any signs of weakness in this area as he did at the Emirates. Alexis Sanchez will have to be back at what he is known for doing best - scoring goals.
The hosts having a decisive 3-1 margin in their favor would enjoy what they are good at - defending. They will probably allow the visitors to do all the attacking and wait for lapses to hit back against the run of play.
Arsenal will have to do the unthinkable. No side has come back from a two-goal deficit and gone on to win in an away game in the knock-out stages. Arsenal can take heart from Schalke's 4-3 win against Real at the Bernabeu last week. The German club almost did it.
Despite the debacle in London, bookmakers are hinting at a favorable show by the Gunners in Monaco, although making it to the quarter-finals is a scenario fit for the most die-hard of Arsenal optimists going into Tuesday night's clash.
The odds for the upcoming Champions League match are:
Win for Monaco : 21/10
For a drawn game: 12/5
Win for Arsenal : 5/4
To advance to quarter-finals:
Monaco: 1/7
Arsenal: 4/1