Game Preview: Manchester United vs. Manchester City - English Premier League - Sunday, 12/04/2015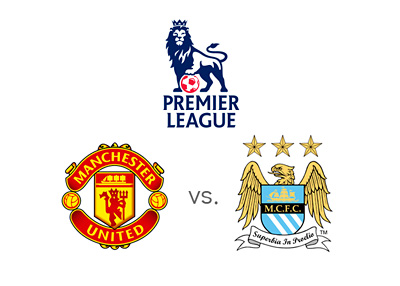 Manchester City will be entering Old Trafford on Sunday at probably their lowest point of the Premier league season having being pushed to the 4th spot for the first time this year after their shocking 1-2 loss to Crystal Palace on Monday. But this is to take nothing away from a courageous display by the Selhurst Park club in overwhelming the EPL champions. For Crystal Palace, Joel Ward, Joe Ledley and Scott Dann & co. synchronized wonderfully in snuffing out the likes of David Silva, Ya Ya Toure, Jesus Navas and Sergio Aguero. Manchester City's lone goal coming off a Aguero deflection from a Toure scorcher hardly did anything to boost the team's morale. Pellegrini's team have lost the risk-taking qualities that made them title-holders for two years running. The defense comprising of Zabaleta, Kompany, Nastasic and Clichy is in complete shambles and City fans can only shudder to think of their team going into Sunday's derby clash in this shape.
In contrast to Pelligrini, Louis Van Gaal whose season had started rather shakily finds himself currently on a dream run. After their shock defeat to Swansea on February 21, Manchester United have won all their five matches in contrast to City's three losses from six games and four away losses on the trot.
Van Gaal has stuck with the same team for most of his recent matches and has struck gold as a result. Expect the same line-up that humbled Liverpool at Anfield to be fielded against City on Sunday may be with the exception of Chris Smalling who has fitness issues.
The probable United line-up could be:
Goal: De Gea
Backs: Blind, Jones, Smalling, Valencia
Midfield: Fellaini, Herrera
Forwards: Young, Rooney and Mata
The loss against Crystal Palace is probably the worst preparation Manuel Pellegrini's team can expect. But they really will have to pull up their socks to bring off a win at Old Trafford. This would indeed be a daunting task in the light of their terrible away-game form. For the Red Devils this will be an ideal moment to turn the tables on a opponent who have beaten them on all the four occasions they last met. For City it will be a fight to stay in the Top 4 and save Pellegrini's job. A win would put them ahead of United once more and potentially Arsenal (in case the Gunners bungle up in one of their coming fixtures). This is enough reason for United not to relent. The bookmakers seem to have got the drift of Sunday's match, which is why they are tipping slightly in favour of a Manchester United win.
Odds for a Manchester United win: 7/7
Odds for a Manchester City win: 9/5
Odds for a draw: 12/5
Head to Head between the two sides
2014/2015 - Man. City 1 - 0 Man. Utd. - Premier League
2013/2014 - Man. Utd. 0 - 3 Man. City - Premier League
2013/2014 - Man. City 4 - 1 Man. Utd. - Premier League
2012/2013 - Man. Utd. 1 - 2 Man. City - Premier League
2012/2013 - Man. City 2 - 3 Man. Utd. - Premier League
2011/2012 - Man. City 1 - 0 Man. Utd. - Premier League
2011/2012 - Man. City 2 - 3 Man. Utd. - F.A. Cup
2011/2012 - Man. Utd. 1 - 6 Man. City - Premier League
2011/2012 - Man. Utd. 3 - 2 Man. City - Charity Shield
Top 6 EPL rankings after 31 games:
Chelsea 70 points
Arsenal 63 points
Manchester United 62 points
Manchester City 61 points
Liverpool 54 points
Tottenham Hotspur 54 points