Game Preview: Manchester City vs. Barcelona - UEFA Champions League - Round of 16 - First Leg - Tuesday, 24/02/2015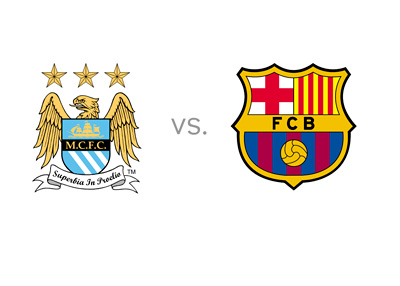 Two teams will be approaching the Etihad on Tuesday night on two different psychological planes. Manchester City will be on a high after the 5-0 thrashing of Newcastle on Saturday and closing the gap with their EPL rivals Chelsea. Barcelona on the other hand were given a reality check with 7th place Malaga humbling them 1-0 in their own backyard, Nou Camp and ending the Catalan giant's eleven-match dream run.
For a side that has won the previous two EPL titles on the trot and in a close second position in the current season, Man City's performance in the European circuit is baffling. Going beyond the Round of 16 in the UEFA Champions League has always been a struggle for City. In the group matches this season they came out a poor second to Bayern Munich, garnering just 8 points from their 6 matches. Barcelona on the other hand looked much more comfortable at that stage of the tournament, losing just one match on their way to gathering 15 points.
The attacking component of City isn't short of riches with likes of the Sergio Aguero, Silva, Nasri and Co. leading the charge. Aguero already has 16 goals from 20 appearances and is in cracking form. But while City look threatening on the offensive, the same cannot be said with confidence about their defensive and mid-field showing of late. Vincent Kompany looks ragged at times. While Pablo Zabaleta looks solid, Gail Clichy and Aleksandar Kolarov don't come out with flying colors as pure defenders. Yaya Toure hasn't hit top form in the midfield after his return from the African Cup. This is where Man City will have to be really careful, for they will be dealing with Messi, Neymar, Suarez & co.
Barcelona's defensive quality hasn't been of great quality of late either. Pique, Alba and Montoya could be seriously tested by the guiles of Aguero and a rampaging City forward line; that is if City get too many opportunities to move forward. The Catalans will definitely want to keep possession and the brilliant combine of the central midfield comprising of Iniesta, Xavi and Ivan Ratic will obviously try creating scoring opportunities for Messi & Co.
A wounded Barca after their shock La Liga loss to Malaga would want to put that minor blimp behind them and come out more rejuvenated at the Etihad on Tuesday. The indomitable Messi is in the
form of his life
. Neymar and Suarez are getting into the act too. This is a Barca side that looks better than the one that beat City 4-1 last season in the same Championship and at the same stage.
Man City have no option but to give their best and with the firepower and talent at their disposal there's no reason why they should not. The moot point is how do they stop Barcelona from scoring at least once at the Etihad on Tuesday. The bookies' odds will probably tell you what could probably happen at the Etihad on night of February 24.
For a Barcelona win: 11/10
For a Manchester City win: 23/10
For a draw: 5/2