Game Preview: Liverpool vs. Manchester United - English Premier League - Sunday, 22/03/2015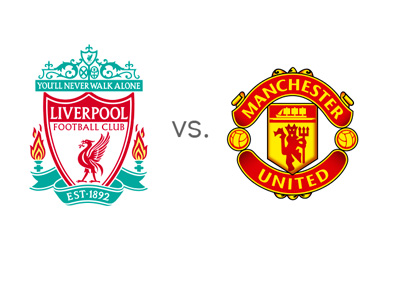 Only two points separate Liverpool and Manchester United when they meet at Anfield on Sunday March 22nd, 2015.
Liverpool will be going into Sunday's clash the more confident of the two, having won 5 of their last six matches, their only loss being to Besiktas in a Europa Cup tie in Turkey. Sturridge, Coutinho and Sterling are combining beautifully upfront and United better lookout for a barrage of raids from the hosts in the initial minutes of play. There could be a struggle for domination of the midfield. For the Reds, the return of Gerrard from his injury could be a boost, although the team has performed well in his absence. Jordan Henderson, Joe Allen and Alberto Moreno are in fine nick and should supplement the forwards well. Mario Balotelli could be introduced later into the match to alter the scoreline if the proceedings turn tight.
Manchester United will try to hold on to the 4th position they are in the English Premier League standings currently. United are charged after their convincing 3-0 win over Tottenham Hotspurs at the Old Trafford last Sunday. But they have lost twice in their last six encounters including a 1-2 loss to a not-so-formidable Swansea.
For the Red Devils, it could be an opportunity to introduce Radamel Falcao, even if briefly, and allow the out-of-form Colombian striker to redeem himself. Same applies to Angel di Maria, Robin Van Persie and the off-colour Wayne Rooney. The pace of Ashley Young and Valencia on the wings and an attacking Juan Mata down the middle could negate Liverpool's midfield edge. On paper, United have bigger names and in full form have the goods to move further ahead up the table at Anfield. Manchester United legend Bryan Robson has urged his team to get on the front foot right from the start and just attack from from the word go.
But Liverpool are on the ascent and are extremely hard to dislodge at home at Anfield. Manager Brendan Rodgers must be given due credit, too, for reviving the club from a position where they were 10 points off from the 4th place and struggling to stay in the top ten a couple of months ago. The place in the top four could very well be within their grasp and a chance to figure in the next season's UEFA Champions League. For Manchester United who didn't feature in the UEFA Championship for the first time in their long history by virtue of being at a lowly seventh last EPL season, a place in the top four would restore a lot of lost pride. After 29 Premier League games Manchester United have earned 56 points and Liverpool 54 from equal number of matches played.The latter are placed at 5th on the EPL table presently.
Liverpool goalie Simon Mignolet proudly claimed his sixth consecutive clean sheet in away matches after last week's 1-0 win over Swansea. Liverpool's last defeat in the current EPL season was at the hands of Manchester United 3-0 in December 2014. They haven't lost a match in the League since then and surely intend maintaining that dream run at Anfield on Sunday evening. It could very well be revenge time for Liverpool in what could be Steven Gerrard's last face-off with the Red Devils.
Probably the bookmakers are getting an inkling of that as the odds below suggest.
For a Liverpool win: 21/20
For a draw: 12/5
For a Man United win: 13/5