Match Preview: Club Brugge vs. FC Dnipro Dnipropetrovsk - 1st Leg Europa League Quarter-Final - 16/04/2015 - Jan Breydel Stadion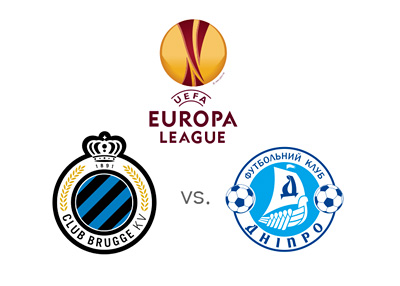 Club Brugge is on a roll in the Europa League of 2014-15. They are the only quarter-finalist not to have lost a single game in their run-up to this stage of the tournament. Their record in the 14 group and qualifying matches stands at 11 wins and 3 draws. Moreover they have won all their last five matches. The Belgian club possesses a fantastic attacking edge and have the ability to make short passes and loft balls to move forward. A solid defense coupled with a strike duo of Tom De Sutter and Obbi Oulare have resulted in one of the best seasons in recent times both domestically and in Europe. They head the Belgian League presently with 71 points to their name and are 4 points ahead of their immediate rivals AA Gent. They beat traditional powerhouse RSC Anderlecht 2-1 to lift Belgian Cup after eight long years. Some of the chief architects of Brugge's recent success have been their top-scorers like Jose Izquierdo, Tom De Sutter and Nicolas Castillo.
On the other hand, coach Myron Markevych has steered FC Dnipro Dnipropetrovsk to one of their best seasons in 25 years. Despite injuries and suspension plaguing the club, Markevych has managed to lead Dnipro to the semi-finals of the Ukrainian Cup and a 3rd position currently in the domestic Premier-Liha. The Ukrainian outfit has gained a reputation of being the most physically aggressive having committed the maximum number of fouls in this season's Europa League (179) and received as many as 38 yellow cards.Although a good season by their standards, Dnipro have managed to win just 4 of their 10 Europa League matches. 25-year old Yevhen Konoplyanka has been their most creative player and seems to have a knack for flourishing in big games. Dnipro have managed to score in every knock-out game, a trait that may serve them well in away games. Konoplyanka's goal in an away match against AFC Ajax clinched the club a place in the last eight. Denys Boyko has been brilliant between the posts and is one of the bulwarks of the Dnipro defense.
One of the shortcomings of Club Brugge is that they lack a opportunistic forward who can score from the merest of chances offered. They also have a tendency to leave wide open spaces especially when the defenders are on the attack. Being a attack-oriented side this is likely to happen regularly and this is where Dnipro can look for goals. The Belgian club will depend heavily on their top scorer, Lior Refaelov, in the Europa League (6 goals) to get them winners. Having attained success over the likes of FC Kobenhavn, Besiktas and HJK in away games Brugge will not to be burdened by the prospect of playing the 2nd leg in Ukraine and will approach the home game at the Jan Breydel Stadion with supreme confidence.
Despite their terrible record of fouls Dnipro will be considering themselves lucky to be entering the 1st leg clash without any suspensions or injuries and will have all their experienced players around. An away goal is what they will need and they are surely going to put all their "physicality" behind it. The general feeling is that Brugge will continue their run of good form and will ride on it through to the semi-finals. Going into 16th April's clash between these two, this notion gets reflected in the bookmaker's odds, too, which heavily favors the home team.
Odds for a Club Brugge win: 19/20
Odds for a draw: 5/2
Odds for a FC Dnipro Dnipropetrovsk win: 10/3
Recent scores of FC Dnipro Dnipropetrovsk
Ajax 2-1 Dnipro Dnipropetrovsk
Dnipro Dnipropetrovsk 1-0 Ajax
Olympiacos 2-2 Dnipro Dnipropetrovsk
Dnipro Dnipropetrovsk 2-0 Olympiakos
Dnipro Dnipropetrovsk 1-0 St Etienne
Inter Milan 2-1 Dnipro Dnipropetrovsk
Recent scores of Club Brugge
Besiktas 1-3 Club Brugge
Club Brugge 2-1 Besiktas
Club Brugge 3-0 AaB
AaB 1-3 Club Brugge
Club Brugge 2-1 HJK
Torino 0-0 Club Brugge