Game Preview: Barcelona vs. Manchester City - UEFA Champions League - Round of 16 - Second Leg - Wednesday, 18/03/2015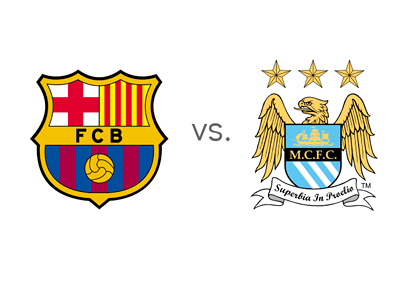 There would not have been any interest left in the 2nd leg clash between Barcelona and Manchester City, had Lionel Messi converted the late penalty at the Etihad in February. With a two away goal lead, he would have put whatever slim hopes the English club harbored of making it to the quarter-finals beyond their reach. But City shouldn't get their hopes high against a rampaging Barcelona who after their shock La Liga loss to minions Malaga have made short work of their opponents scoring as many as 14 goals from the five games they have won in a row since then.
On the other hand, Saturday's Premier League loss to lowly Burnley 0-1 has punctured City's hope of a title this season. The absolute collapse of their defense led by the club veteran Vincent Kompany will be a source of great concern going into Wednesday night's clash at Nou Camp. It was the Belgian defender's wayward header that cost City the match against Burnley. There's pressure on Zabaleta as a result and Demichelis performing in a central defensive role was of very little effect. Strikers Edin Dzeko and Sergio Aguero are playing well below their best and their shooting has been truly wayward of late. Wilfried Bony needs to play a more active role upfront. YaYa Toure will be back from suspension and probably lend some stability to the midfield. City are seriously low on confidence right now having failed to win any of their last three away games. They are 6 points behind Chelsea in the EPL standings and the Blues still have two games in hand to stretch the gap further. Manuel Pellegrini's job as manager is on the line and he will probably have to inspire his deflated team to come up with something magical at Nou Camp. Even if City could play in the manner they did in the second half of the 1st leg at the Etihad when Sergio Aguero got their only goal and a series of chances created, they could certainly hope to make a match of it. But that would be hoping against hope.
Barcelona will be looking once again to exploit the fragile City defense. With Suarez back in goal-scoring form and combining beautifully with Neymar, the City backs have a huge problem ahead of them. Add to that, the individual brilliance of club talisman, Messi and the ever-improving Rakitic could further make life miserable for them.
With 17 wins out of their last 18 games, the last thing one can expect from Barcelona is to lose in front of their home fans at the Nou Camp. One more English club could probably be on their way out of the Champions League. The odds are so very heavily stacked in Barcelona's favor.
For a Barcelona win: 2/5
Draw: 17/4
For a Manchester City win: 7/1
To qualify
Barcelona: 1/20
Man CIty: 10/1