Game Preview: Barcelona vs. Atletico Madrid - Copa del Rey - Quarter Finals - First Leg - Wednesday, 21/01/2015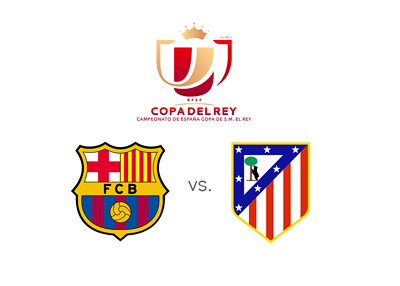 For all of Real Madrid's brilliance, they are serious chokers against Atletico Madrid. Even with 73% ball possession in the Copa del Rey 2nd leg and virtually getting through the dogged Atletico defense on quite a few occasions they couldn't better a 2-2 scoreline. Atletico has indeed succeeded in frustrating Los Blancos no end. Which sees them progressing into the Round of 8 of Copa del Rey where they face a litmus test against Catalan giants Barcelona in the 1st leg encounter at Nou Camp on 21 January.
Their tails are up! Their tightly clustered defense quartet of Juanfran, Godin, Gimenez and Sequeira ably supported by Gabi and Mario Suarez in the midfield can be a handful for any attacking formation. Arda Turan, Koke and Griezmann with their blistering wing-runs provide the perfect counter-attacking breaks. Fernando Torres, up in the striker's position, showed signs that he could be the El Nino of the old with his brace at the Bernabeu on Thursday. Although they sorely miss the scoring abilities of the prolific Diego Costa, Mario Mandzukic has tried hard to make amends for that. Atletico will need him to come out of his injury to face Barca on the 21st.
But if the Madrid club is under any impression that Barcelona's form is still under the weather owing to controversies surrounding Messi's rift with coach Enrique and his continuance at Nou Camp, they better forget it. They got a taste of the Catalans in a La Liga derby on January 11 when they were humbled 1-3; the big three of the Barca front line got a goal each.
Expect Messi and Neymar to come hard at the Atletico defense. They are not likely to come from the middle but from the extreme flanks, enough to widen the four-man defense cluster and probably create gaps for the likes of Luis Suarez to score. Even someone like Ivan Rakitic and Iniesta in center-forward positions could spell a lot of trouble for the Atleti in such situations and put additional pressure on the Los Colchoneros back line. But on the other hand, the not-so-great Barca defense will be tested by the phenomenal wing bursts of the greatly in-form Antoine Griezmann and his lethally pin-point crosses to strikers could unsettle the Catalan defense. Barca will attack mostly, no doubt, but they better watch out for the Atletico breaks. Dani Alves, Pique and Jordi Alba have been known to be caught napping in such situations on more than one occasion in the past.
In 2014 when the two met thrice in all competitions, Barcelona couldn't even win once. They drew twice and lost one. 2015 could be a different story. Barca have made it clear that they won't stutter as Real Madrid did against Los Colchoneros.
Messi's phenomenal hat-trick against Deportivo on Sunday dispels any notion of a controversy plaguing him and made it amply clear to doubting Thomases that he intends to be around Nou Camp for some time to come.
Messi and Barcelona are now on a high coming out of their 4-0 La Liga win over Deportivo and although Saturday's Copa del Rey tie promises to be an engrossing affair, the Catalans are likely to dominate the proceedings at Nou Camp. Unlike their great Madrid rivals, Barca may have possibly found a way to better Atletico. Possible score lines of 3-1, 3-0 or 2-0 in favor of Barcelona could be expected.
In fact, odds in favor of a Barcelona win are 8/15, for a draw 19/5 and 11/2 for an Atletico Madrid win.
The odds to qualify to the Copa del Rey semi-finals are
Barcelona: 4/9
Atletico: 13/8
The return leg will be played on Wednesday, January 28th in Madrid.