Odds and Preview for Portugal vs. Russia - World Cup Qualifying - June 7th, 2013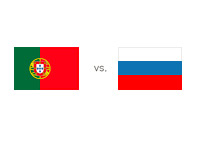 Portugal host Russia in Group F of the World Cup Qualifiers on June 7th, 2013 at Estádio da Luz in Lisbon.
This is a big match. Both Portugal and Russia are eyeing the number one spot in the group that earns direct placement to the FIFA World Cup 2014 in Brazil. Russia have so far played four games and won all four including a 1-0 victory vs. Portugal in October of 2012. Portugal have played six games so far in Group F and they have won 3, tied 2 and lost 1. Most recently Portugal beat Azerbaijan 0-2, while Russia's last game was also against Azerbaijan and the score there was 1-0. Russia have played couple of friendlies recently including a 1-1 tie vs. Brazil on March 25th of this year.
Russia, managed by Fabio Capello, are in great form and a win vs. Portugal in Lisbon would put them well ahead in the tables and solidify their chances of directly qualifying for Brazil. For Portugal, this is an important game in order to stay alive in the race for a top two finish in the group.
These are the current standings in Group F:
Russia - 4 games played - 12 points
Isreal - 6 games played - 11 points
Portugal - 6 games played - 11 points
Northern Ireland - 5 games played - 3 points
Azerbaijan - 6 games played - 3 points
Luxembourg - 5 games played - 2 points
Lets take a look at the odds for the upcoming match between Portugal and Russia:
Portugal: 10/11
Draw: 12/5
Russia: 3/1
Portugal are the favourites to win at home. A $100 bet on Portugal could return $90 in profit, while the same bet on Russia could return $300 in profit.
The most likely outcome in this game according to the odds is a 1-0 victory for Portugal offered at 5/1, followed by a 1-1 tie offered at 11/2.
What do you think will happen in this match? Will Cristiano Ronaldo, Fabio Contrao and Joao Moutinho perform and bring Portugal much needed points, or will Russia, who are undefeated in their last eight matches, continue their winning streak and close this group down with a victory in Lisbon.
Lets see how this one plays out!