Portugal and Croatia Meet in an International Friendly in Geneva, Switzerland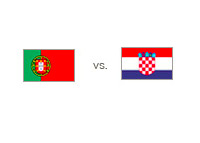 Portugal and Croatia play an international friendly game on Tuesday, June 10th, 2013 at Stade de Geneve in Switzerland.
Portugal are coming off a big win vs. Russia in their World Cup qualifying group, while Croatia, who are ranked 4th on the most recent FIFA power list, have played two very lacklustre games lately, losing their most recent match vs. Scotland on home turf and putting qualifications to the World Cup in Brazil in jeopardy.
This should be an interesting match. Portugal, the 6th strongest football nation according to FIFA, are in form right now and Croatia will want to prove that they still have what it takes before the team disperses for the summer.
Lets take a look at the odds for the upcoming match in Geneva.
Portugal: 6/5
Draw: 23/10
Croatia: 9/4
Portugal are the favourites to win the match on Tuesday. A $100 bet on Ronaldo and company returns $120 in profit, if successful, while the same bet on Croatia returns $225 if successful.
This is a friendly game. There will be a lot of subs and both coaches will be trying out strategies and giving new players a chance. The word is that Ronaldo will play a portion of the game for Portugal, while Nikica Jelavic and Mario Mandzukic will be out for Croatia. Real Madrid midfielder Luka Modric will be making a return after missing the game vs. Scotland.
Cristiano Ronaldo is the favourite to get on the score sheet at 9/10, which means that a $100 bet could return $90 in profit.
Lets see how this match plays out!