Eden Hazard Favored to Win 2014/15 English Player's Player of the Year Award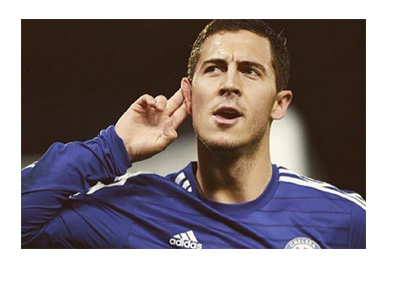 On Sunday, April 26th, 2015 at the Grosvenor House in London, the Professional Footballers' Association (PFA) Players' Player of the Year Award will be given out to the best football player in England.
The list of nominees for this season's award are:
Eden Hazard, Chelsea (1/8)
Harry Kane, Tottenham Hotspur (6/1)
Alexis Sanchez, Arsenal (22/1)
David de Gea, Manchester United (28/1)
Philippe Coutinho, Liverpool (50/1)
Diego Costa, Chelsea (40/1)
--
The numbers in brackets are the current betting odds for winning the award.
Looks like the Chelsea's 24 year old attacking midfielder, Eden Hazard, has this one wrapped up! The fact that he put one through the legs of David de Gea to earn a big victory vs. Manchester United on the weekend will probably help his cause.
Here is a list of recent PFA PoY award winners:
2013/14 - Luis Suarez
2012/13 - Gareth Bale
2011/12 - Robin van Persie
2010/11 - Gareth Bale
2009/10 - Wayne Rooney
2008/09 - Ryan Giggs
2007/08 - Cristiano Ronaldo
The winner is chosen each year by a vote amongst the members of the players' trade union, the PFA.