Game Preview: Olympiacos vs. Paris Saint-Germain - UEFA Champions League - September 17th, 2013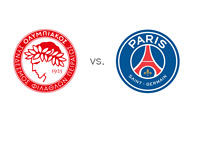 Olympiacos are hosts to Paris Saint-Germain (PSG) in the first round of matches in Group C of the UEFA Champions League. The match will be played at Georgios Karaiskakis Stadium in Pireaus on Tuesday, September 17th, 2013.
Olympiacos won the Greek Superleague in dominant fashion last year, and in the current season they have won all three domestic matches so far. Players to watch on the Olympiacos team are the Slovakian winger Vladimir Weiss and the newly signed Argentine striker Javier Saviola.
PSG won the French Ligue 1 last year and they are in good form in the current season with three wins and two draws in five games. Paris Saint-German are stacked with good players. The spotlight on Tuesday sure will be on two strikers Edinson Cavani and Zlatan Ibrahimovic.
The odds for the upcoming match in Pireaus are:
Olympiacos: 14/5
Draw: 23/10
PSG: 10/11
The French side are the favourites to win. A 100 € bet on PSG could bring in 90 € in profit, while the same bet on Olympiacos could bring in 280 € in profit.
The most likely scores, according to the odds are a 1-1 draw and a 0-1 victory for the guests, both offered at 6/1.
Group D is a tough group which also features Benfica and Anderlecht. It is important for both Olympiacos and PSG to get off to a good start here.
Let's see how things play out!