Odds to Win the 2014 World Cup in Brazil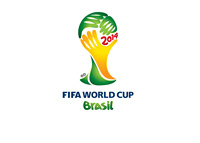 With the World Cup qualifiers raging on across the continents, we thought it would be interesting to see where the top footballing nations currently stand for winning the trophy in Brazil next year.
Here are the top odds for winning the 2014 World Cup:
Brazil 3
Argentina 9/2
Germany 5
Spain 5
Belgium 16
Italy 20
Holland 20
Colombia 20
England 22
France 33
Mexico 33
Uruguay 40
Portugal 40
Chile 50
Russia 50
After winning the FIFA Confederations Cup this summer, Brazil have solidified themselves as the top contenders to win the World Cup next year. A 100 € bet on Brazil to win could yield 300 € in profit. Argentina are second in line and a 100 € bet on Lionel Messi and company could generate 450 € in profit. It is interesting to see the current world and European champions Spain ranking 3rd, in line with Germany, with odds of 5/1. And finally, it is a very pleasant surprise to see Belgium among the top 5 contenders. Belgium have impressed during the qualifications.
Can you believe that the World Cup is starting in only nine months time?
The first game is to be played on June 12th, 2014.