Premier League - Round 24 - Norwich vs. Tottenham Hotspur - Game Odds
On Wednesday January 30th, 2013 at Carrow Road, Norwich are hosts to Tottenham in the 24th round of the English Premier League.
Norwich are in 13th place after 23 matches with 26 points while Tottenham are in 4th place with 41 points.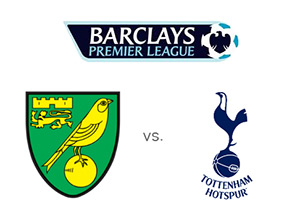 Norwich need to do something in this game. They have one point only out of their last six league games and most recently they lost to Liverpool 5-0 on January 19th. Norwich also lost to Luton Town 0-1 in the FA Cup round 4 on January 26th, making it the first time a Premier League club was beaten by a non-League side in 24 years.
Tottenham Hotspur drew their last two games vs. Manchester United at home 1-1 and vs. QPR 0-0 away. They won the three games before that vs. Reading, Sunderland and Aston Villa. Tottenham are in good form and they just signed a young prospect, the German Under-21 captain Lewis Holtby from Schalke 04. In the FA Cup Tottenham surprisingly lost to English League Championship side Leeds United with the score of 2-1 on January 27th.
Tottenham are favourites in the upcoming match vs. Norwich.
Norwich 15/4
Draw 11/4
Tottenham 5/6
This means that a $100 wager on Norwich would yield a total of $375 while a $120 bet on Tottenham would yield a profit of $100.
Can Norwich do something here to turn things around and avoid sinking to the bottom of the table?
With a win at Carrow Road Tottenham could solidify their position at the top of the Premier League and increase their chances of playing in the UEFA Champions League next season.
This should be an interesting match.
The officials for the Wednesday fixture are referee Neil Swarbrick and assistants A Halliday and J Brooks. The fourth official is A Woolmer.