Game Preview: Norway vs. Iceland - World Cup Qualifying - October 15th, 2013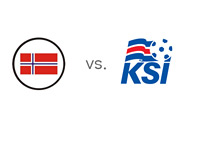 With one round of games left in the FIFA World Cup qualifiers, Iceland have a very good chance to qualify to the World Cup qualification playoffs. On Tuesday, October 15th, 2013 they will face Norway in Oslo.
Iceland have an exciting team. Gylfi Sigurdsson from Tottenham Hotspur is one of the guys running the show. Gudjohnsen is there. This is a really big game. Norway will be all up for this. Slovenia, who have one point less, are playing Switzerland, who are in top form and have already qualified for the World Cup. If you are watching England, and the show is done at half time, and if Bosnia are taking care of business vs. Lithuania, this is the game to tune into.
Let's take a look at the odds:
Norway: 6/4
Draw: 12/5
Iceland: 17/10
This one is close! Norway are the slight favourites. A 100 € bet on Norway could return 150 € in profit, while the same bet on Iceland could return 170 € in profit.
1-0 or 1-1 are the most likely scores, both offered at 7/1.
Eidur Gudjohnsen and Tarik Elyonoussi are the favourites to score, for Iceland and Norway respectivelly, at 2/1 each.
It would be awesome to see Iceland make it through to the playoffs.
Switzerland vs. Slovenia will be a good show as well.
Gotta figure out a way to watch all these games.
Tuesday is going to be awesome!