List of Next Week's Biggest Euro Football Games - November 4th - 10th, 2013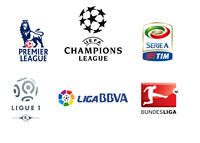 The upcoming week in Euro football is a fairly big one. On Tuesday, November 5th, and Wednesday, November 6th, we have the fourth round of the UEFA Champions League and then on the weekend (Nov 9th and 10th) there are some sweet domestic matchups including Man Utd vs. Arsenal in the English Premier League and Juventus vs. Napoli in Serie A.
Here is a full list of games that attract attention in the week between November 4th and November 10th, 2013:
Tuesday, November 5th
Man City vs. CSKA Moskva - UCL
Juventus vs. Real Madrid - UCL
Shakhtar vs. Leverkusen - UCL
Olympiacos vs. Benfica - UCL
Wednesday, November 6th
Zenit vs. Porto - UCL
Chelsea vs. Schalke 04 - UCL
Borussia Dortmund vs. Arsenal - UCL
Barcelona vs. Milan - UCL
Friday, November 8th
Spartak Moscow vs. Zenit - RPL
Saturday, November 9th
Real Madrid vs. Real Sociedad - La Liga
Wolfsburg vs. Borussia Dortmund - Bundesliga
PSG vs. Nice - Ligue 1
Sunday, November 10th
Manchester United vs. Arsenal - EPL
Juventus vs. Napoli - Serie A
Villarreal vs. Atletico Madrid - La Liga
As usual, we will preview the bigger games.
Should be a good week!