Sixteen-Year-Old Martin Odegaard Set to Join Real Madrid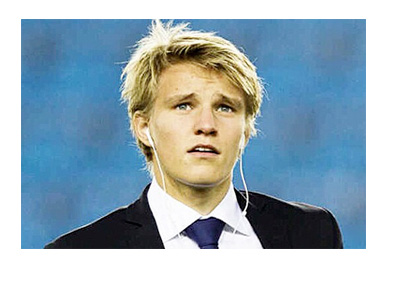 Seldom has a Norwegian teenager created such a sensation. All of 16, Martin Odegaard has already been linked to virtually every top club of Europe. Finally, it looks like Real Madrid will get him from his home club Stromsgodset for a sum amounting to of 2 - 4 million Euros.
Odegaard made his official debut for his club at the age of 15 years and 117 days, a Norwegian record for a youngest player appearance. He was also the youngest player to feature in an Euro qualifier when Norway played Bulgaria earlier last year and has already three caps for his country on the international stage. In August 2014, he caught the attention of the media when he made assists for all three goals in a 3-2 win for his club in an away match against IK Start. Stromsgodset finished fourth in the Norwegian league which qualifies them for the 2015 UEFA Europa League. The young Norwegian's scored 5 goals from his 23 appearances for his club.
But what has singled out this slight 5 ft 9 in. attacking midfielder is his attacking vision, the ability to weave around defenses at great speed, render deadly through-passes and make lightning quick moves into the penalty area.
After the close of the Norwegian season in November, Odegaard and his father Hans Erik toured various clubs of Europe beginning with Arsenal on December 16 where he trained with the first-team. In fact, Bayern Munich was contemplating signing the wonder kid on his sixteenth birthday on December 17, but with the Gunners showing unusual interest they backed off. Celtic boss Ronny Deila was also keen on Odegaard, but the Scottish club were rank outsiders from day one what with such big names eyeing the Norwegian kid. Visits to Manchester and Liverpool were also in order.
But ultimately it was the clamour in Madrid over the 16-year old that won the day. Local publications like Marca claimed that Los Blancos were crazy about acquiring the 16-year old and that he even practiced with Ronaldo who was all praises for Odegaard 's talent.
Finally a deal seems to be taking shape in the nation's capital wherein Odegaard's father Hans Erik will also join Los Blancos in a coaching capacity. The Odegaard family is reportedly considering a summer shifting to Spain where a villa in Madrid awaits them.
Detractors of Martin Odegaard feel that he will have to spend at least three seasons before he can feature in Real's main playing eleven on a regular basis and would have been better off joining a lesser club.