Match Preview - Manchester United vs. Real Madrid - UEFA Champions League - Round of 16 - 2nd Leg
Manchester United are hosts to Real Madrid in the 2nd leg of the UEFA Champions League Round of 16 at Old Trafford on March 5th, 2013 at 20.45 CET. The score in the first match in Madrid was 1-1.
This is probably the biggest game in club football so far this season. The timing is perfect. Manchester United are on a tear in the English Premier League. Undefeated in the last 16 matches they most recently beat Norwich 4-0 at home. Real Madrid are also peaking. They beat their arch-rivals Barcelona twice in the last week. First they gave them a 1-3 beating at Camp Nou in the Spanish Cup and then they outplayed them at home 2-1 in the league while in the same time resting their top players for Tuesday.
This should be a great match.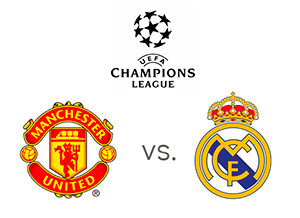 Real Madrid are favourites to win the match in Manchester.
Full Time Result:
Man Utd 23/10
Draw 27/10
Real Madrid 6/5
To Qualify:
Man Utd 5/4
Real Madrid 4/6
A $100 bet on Manchester United to qualify could bring in $125 in profit while the same bet on Real Madrid would bring $66 in profit.
It is a little surprising to see Real Madrid as big favourites. Real Madrid outplayed Man Utd in the first game even though the scoreline was even, but to win at Old Trafford is going to take a lot more.
Manchester United had a relatively easy job in their last couple of games while Real had two intense battles vs. Barcelona. Will this make a difference?
Manchester United are going for the treble (League, Cup and UCL) and things seem to be going their way. They are in the number one spot in the league, alive in the FA Cup (quarter-finals) and they have a favourable result from Madrid.
Real are in the Spanish Cup finals and out of contention in the La Liga. Making it far in the UEFA Champions League is an imperative for Jose Mourinho and his team.
The question we must ask is, do Real Madrid have it in them to repeat the performances from last week? They had a very demanding few days and it will take something really special to beat Manchester United at Old Trafford.
Manchester United vs. Real Madrid in the UEFA Champions League will likely be the most watched club match so far this season.
Will Real Madrid continue their power run or will Manchester United get one step closer on their path to winning three titles this season?
On Tuesday we have a matchup between two biggest clubs in Euro football, we have Ronaldo playing at Old Trafford for the first time since moving to Madrid and we have two top teams who are dominating at the moment. We also have one game that will decide who stays alive in the biggest tournament in Euro club football.
This is very exciting stuff.