FA Cup Quarter-Finals - Manchester United vs. Chelsea - March 10, 2013 - Match Odds and Preview
Manchester United are hosts to Chelsea in the FA Cup quarter-finals on March 10th, 2013 at Old Trafford. at 6:30 PM CET.
Match Preview:
This promises to be an entertaining matchup. Manchester United are coming off a crushing defeat in the UEFA Champions League vs. Real Madrid while Chelsea just lost their 1st leg of the UEFA Europa League against Steaua. Both teams have something to prove here. Manchester United were gunning for the treble (English Premier League, FA Cup and UEFA Champions League titles) until Tuesday while Chelsea started the season with an opportunity to earn 7 trophies and they are in contention for two at the moment.
How will the teams react after their midweek Euro shockers?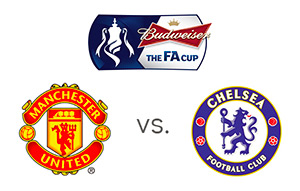 Full Time Result Odds:
Man Utd 4/5
Draw 13/5
Chelsea 10/3
Odds To Qualify:
Man Utd 4/7
Chelsea 5/4
A $100 bet on Manchester United to qualify to the semi-finals could bring in $57 in profit while the same bet on Chelsea could return $125 in profit.
Manchester United are favourites. It makes sense. United played well against Real Madrid, they are in good form, they beat Chelsea at Stamford Bridge in October 2012 in the league with the score of 2-3 and aside from the unfortunate Real game they have won all their games at home since early December.
Note: Chelsea beat Man Utd at Stamford Bridge in the Capital One Cup 5-4 a few days after their league encounter.
Chelsea on the other hand are on and off. They lost a big game vs. Manchester City on Feb 24th, then beat Middlesbrough and West Brom in the FA Cup and the EPL respectively. The most recent lacklustre performance and a loss vs. Steaua Bucuresti came as a bit of a surprise. Chelsea have not impressed in a very long time.
Will Manchester United manage to stay on track for two titles this season after a shock in the UCL? Maybe Chelsea can bring something special on Sunday and beat Man Utd at Old Trafford?
Will Wayner Roonie be in the starting 11 fo Man U?
This should be a great match.