Game Preview: Manchester City vs. Everton - English Premier League - Saturday, October 5th, 2013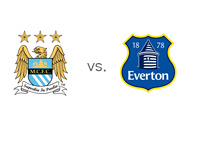 Manchester City will host Everton in the seventh round of the English Premier League on Saturday, October 5th, 2013 at Ethiad Stadium in Manchester. The kick-off is at 12:45 local time.
City have to win this one, while Everton are in great form - undefeated so far in the league. City lost big to Bayern Munich in the UEFA Champions League, right after a tough loss to Aston Villa in the league. Everton are coming off a dominating performance vs. Newcastle United and have beaten Chelsea this year already.
Machester City goalkeeper, Joe Hart, is under heavy attack by the media after his performance vs. Bayern and his place in the starting lineup is under a question mark. Everton's new striker Lukaku, who is playing on loan from Chelsea, is on fire at the moment, scoring twice on the weekend.
The odds for the upcoming match at Ethiad Stadium are:
Man City: 7/10
Draw: 29/10
Everton: 9/2
Manchester City are the favourites. A 100 € bet on City could return 70 € in profit, while the same bet on Lukaku and friends could return 450 € in profit.
Sergio Aguero has netted 3 goals in the league so far this season and is the favourite to score for Manchester City at 11/10 (bet 100 € for a chance to profit 110 €). Romelu Lukaku, who has scored 3 goals in his last two games for Everton, is valued at 2/1. (bet 100 € for a chance to profit 200 €).
Should be a good game. What are we to expect from Mancester City, who dominated vs. United just couple of weeks ago? Everton have a chance to represent on Saturday.
Let's see how this one plays out!