Manchester City vs. Chelsea Odds and Game Notes - English Premier League
Update: Final Score -
Man City vs. Chelsea 2-0
--
Second place Manchester City are hosts to third place Chelsea in the 27 round of the English Premier League at the Etihad Stadium in Manchester on Sunday, February 24th, 2013 at 5:30 local time.
This is a big game. Two giants of present day English football. The English Premier League champions vs. the UEFA Champions League winners from last year.
Manchester City are coming off a surprise 3-1 loss to Southampton after they tied Liverpool 2-2 and QPR 0-0 in the league. This is a must win game for Manchester City if they have any plans of catching up to Manchester United this season. Manchester City played vs. Leeds in the FA Cup in their very last match on Feb 17th and they won that game 4-0.
Chelsea most recently eliminated Sparta out of the UEFA Europa League 2-1 on aggregate. In the FA Cup Chelsea beat Brentford 4-0 and in their last Premier League match they beat Wigan 4-1.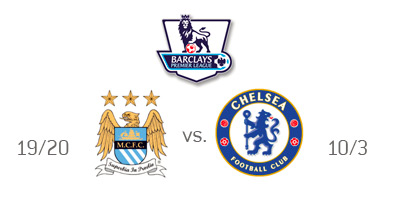 Man City 19/20
Draw 13/5
Chelsea 10/3
Manchetser City are the favourites.
A $100 bet on Man City could bring in $95 in profit while a $100 bet on Chelsea could bring in $333.
Both of these teams are in questionable form at the moment and it will be very interesting to see how this game plays out.
When Chelsea hosted Manchester City on November 25th, the score was 0-0.
This matchup is good news for the first place Manchester United and 4th place Tottenham who are looking to strengthen their position at the top of the tables knowing that one of these teams could end up without points on Sunday.
Should be a great game.