Game Preview: Manchester United vs. Liverpool - Capital One Cup - September 25th, 2013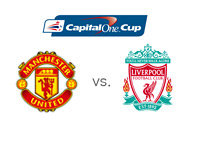 Manchester United are hosts to Liverpool in the third round of the Capital One Cup on Wednesday, September 25th, 2013 at Old Trafford.
Boht teams are coming off dissappointing defeats in the English Premier League (EPL) over the weekend. Manchester United were demolished by Manchester City (4-1), while Liverpool lost their home game vs Southampton (0-1).
After five matches played in the EPL, Manchester United are in eight place with 7 points and Liverpool are in fifth place with 10 points.
Luis Suarez is set to make a return for Liverpool after serving a lengthy suspension, and Robin van Persie is likely to return for Man Utd after missing the match on the weekend.
Update: Robin van Persie will not be featured for Man Utd.
The odds for the upcoming Capital One Cup match at Old Trafford are as follows:
Man Utd: 5/4
Draw: 5/2
Liverpool: 12/5
Manchester United are the favourites to win. A 100 € bet on the hosts could return 125 € in profit, while the same bet on Liverpool could return 240 € in profit.
Robin van Persie is the favourite to score for Man Utd at 21/20 (bet 100 € for a chance to profit 105 €) and Luis Suarez is the favourite to score for Liverpool at 13/8 (bet 100 € for a chance to win 162 €).
Should be a good game!