PSG Fight for Title, While Lyon Fight for a Spot in the UEFA Champions League on Sunday, May 12th, 2013 in French Ligue 1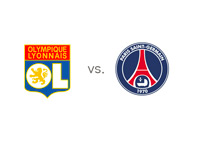 Third-place Lyon meet first-place Paris Saint-Germain (PSG) in the 36th round of the French Ligue 1 on Sunday, May 12th, 2013 at Stade de Gerland.
What makes this match interesting, with three rounds to go in the league, is the fact that Lyon are battling for a spot in the UEFA Champions League, while PSG have a chance to wrap the season up and win the league.
The two teams met earlier in the season in Paris and PSG won that game 1-0.
Most recently Lyon beat 17th place Nancy 0-3 while PSG, who are unbeaten in the last eight, tied 12th place Valenciennes 1-1 at home.
Lyon 12/5
Draw 9/4
PSG 23/20
The guests are the favourites to win and a $100 bet on PSG returns $115 in profit, while a successful $100 bet on the hosts returns $240 in profit.
Zlatan Ibrahimovic and Co. might win the league for the 3rd time in club's history and first time in 19 years as soon as this Saturday, if 2nd place Marseille, who are unbeaten in the last nine games, fail to be victorious against 10th place Toulouse.
Fourth-place Nice and fifth-place Saint-Etienne are also playing games this Sunday, which makes the battle for 3rd, that leads to the UEFA Champions League playoffs, and 4th, which leads to the UEFA Europa League, a lot more interesting.
Lets see how all this plays out!