Luka Modric Returns to First Team Training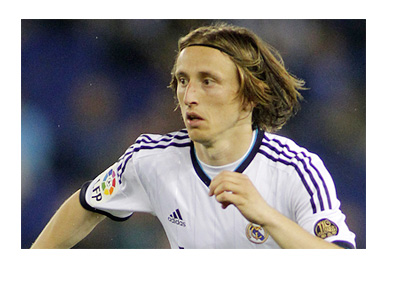 In November when it was announced that Luka Modric would be out for three months from a thigh injury he suffered in a Euro qualifier against Italy, little would Real Madrid realise how this would affect their fortunes.
The 29-year old Croatian playmaker's immense vision and his quick interchanging of positions in offensive and defensive roles in central and midfield areas were the essence of his club's phenomenal success during 2014. Cristiano Ronaldo may have scored most of Los Blancos' goals but it was Luka Modric who laid the foundations for many of them. In fact Los Blancos run of form seemed to have fizzled out in the absence of the mercurial midfielder, as is evident from the club's mediocre performance in the months of 2015.
Manager Carlo Ancelotti admitted that Modric's injury was a shock for the club and that he considered the Croatian to be one of the best midfielders in the world and vital to the team's success.
So Real Madrid fans breathed a sigh a relief when he returned to training sessions for the first time since November 2014. Modric is joined by a long list of team-mate injuries that includes the likes of Sami Khedira, James Rodriguez, Sergio Ramos and Fabio Coentrao, all of whom are in the process of recovery.
Fortunately for Real, a easy patch of fixtures seems to be on. Schalke 04 aren't the most daunting of opponents and Los Blancos almost made sure of a quarter-final berth in the UEFA Champions with a 2-0 away win in Germany. They proceed on Sunday to play minions Elche in a La Liga clash. Real are just a point ahead of Barcelona in the Spanish League standings. The Catalans are in stupendous form and are biting at the heels of their Madrid arch-rivals. Real's lead may hold for the time being but with the absence of men like Modric they could be perilously close to losing it. Come April they will need him to feature regularly in the Los Blancos starting eleven. The opposition in the Champions League round of 8 will also in all probability be much tougher. Real Madrid will require all those on the injured list to be fighting fit by then, if they are to become the the world-beating side that they were in 2014.
Presently the club seem to be on crutches and it will take the return of Luka Modric and Co. to remove them.