Everton Look for Their First Victory at Anfield Since 1999 When They Visit Liverpool on Sunday, May 5th, 2013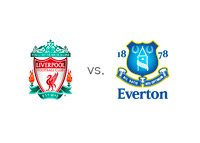 Liverpool are hosts to Everton in the 36th round of the English Premier League on Sunday, May 5th, 2013.
As both Liverpool and Everton are most likely out of European competitions next season, the upcoming match at Anfield between two Merseyside teams is one for pride.
Last season Liverpool beat Everton 3-0 at home with three goals from Steven Gerrard, while earlier in the current season at Goodison Park the score was 2-2. Last time Everton beat Liverpool at Anfield was in 1999.
Liverpool 17/20
Draw 13/5
Everton 15/4
Liverpool are the favourites and a $100 wager placed on them to win could earn $85 in profit, while the same wager on Everton could earn $375 in profit.
The most likely score according to the odds is a 1-0 victory for the home team at 7/1 (bet $100 to profit $700), followed by a 2-1 victory at 15/2 (bet $100 to profit $750).
Daniel Sturridge is the favourite to score for Liverpool at 6/5 (bet $100 to profit $120) while Nikica Jelavic is the favourite to score for Everton at 12/5 (bet $100 to profit $240).
If Everton win their remaining three games, there is a possibility for them to qualify to the UEFA Europa League next season. In order for that to happen, Tottenham would have to earn three points or less in their next three matches or in an even more unlikely scenario, Chelsea would have to get less than three points in their next four games. The odds are against Everton, but the hope is still alive.
Maybe the incentive of playing European football next season will be enough for Everton to earn their first victory at Anfield in fourteen years?