Current State of Affairs at Liverpool FC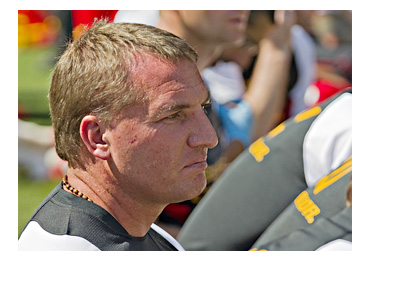 For any Liverpool supporter, last year must have been like a funny dream. For me, it was. Going around the country setting about some good sides - and swatting aside the majority of our rivals along the way - was something that very few people have seen since Sky broke/saved depending on your view English football.
Although many supporters must look at Liverpool fans with an expression akin to
this
when they start talking about Liverpool being a "failure" over the last two decades, given their still impressive trophy haul in that time, you can kind of understand why. At their peak, Liverpool were "the" club. I'm not going to bore you all with another history lesson - who needs another Red telling them about the European Cup, especially when I've only seen us lift one in my life?
But my point is on the above that this is a club that was so used to winning, that the impressive trophy haul in the last two decades is still seen as meagre. Imagine Tottenham had won the same trophies in that timeframe - it would be among their "golden eras". So, now that things seemed to have reverted back the norm and Liverpool are once again an underperforming giant, where do we go from here?
This isn't some dig at Brendan Rodgers, as he's a quality manager. Take away his awkward sound bites and the frankly intrusive and perverse comments about his personal life and he seems a genuinely good guy as well. As somebody who has a lot of time for anyone with a Celtic & Liverpool connection, he was always somebody I was happy to give time to. However, I've got a few reasons to think that this might be the beginning of the end for Brendan;
Hangman Chat
This is a short one and not one I necessarily care for, but have seen it mentioned a lot. From his comments on Spurs spending and how it should result in a title challenge to his statement that "anyone" can set up a team to sit back and defend, Brendan's confidence could be the thing that hangs him.
Again, not something I buy into, but if these comments are seen enough in comparison to our profligate spending and defensive record, it makes the Irishman look a bit daft. When confidence amongst the fans is quite low as it is in your ability, this isn't going to help one bit.
The Binned Principles
The club seemed to enjoy an anomaly season last year, built on the foundations of a comically talented attack that could take even quality defenses to the cleaners. That the entire system last year seemed to go against everything Rodgers wanted - chaotic, little control on the game, edge of your seat stuff - seemed to be a topic of minimal conversation at the time.
Perhaps now that we seem to be stuck in some horrible mix of trying to control the game whilst trying to be bombastic at the same time, this should be a louder topic of conversation. As a manager signed for his principles and his big book of ideas, he was happy to consign it all to the bin because he had two forwards so good they made it worth doing so.
This is fair enough, totally fair. But now he seems to want to go back to his original plan, now that we have one good striker instead of two, why are we playing teams that are so incredibly chaotic they would have fitted last season? He seems to want to return to his original mantra, again fine, but has picked teams that are far more suited to the top-heavy and high risk style of last season.
This type of inconsistency between planning and the actual outcome are quite worrying, and it won't take long before people start to get sick of the constant changing. I'd rather see him stick to his principles if that's what he was brought in for, rather than appearing to pander to certain squad members and, at times, the fans demands.
The last two games have been grand in terms of attacking intent - we've made more chances in the last few games than it felt like we had the whole season - but they still feel more like throwbacks to last season in a bid to show the fans that he still "has it".
Terrible Transfers
He's absolutely terrible in the transfer market. And if it's the committee who buy these players, they are absolutely terrible in the transfer market. I don't necessarily care who, but somebody needs to get their house in order quickly at the club.
With over £200m spent since he arrived at Anfield, Rodgers no longer can give it the "Wait until you see my teamů" speech. He's spent a lot of money - regardless of whether or not his rivals have spent more - and the majority aren't very good, are out of the team for varying reasons, or haven't fit in at all. Guys like Aspas and Alberto were purchased last year for around £15m, yet both are now away on loan after failing to impress whatsoever.
In fact, you could probably have about three legitimate successes since he arrived at the club. Coutinho and Sturridge have worked obviously - and even the little Brazilian is struggling at the moment - but you would probably only count Joe Allen as a genuine success alongside them.
He might only have spent around £30m net in the summer, but his squad looks no weaker and he's already intimating that he needs more money in January. Would you trust him? Or the committee?
There's plenty of problems at Liverpool - so is it time to go back to the drawing board? Personally, I wouldn't. A lack of genuine alternatives mixed with owners who are never going to back a manager to the hilt needed to succeed through sheer buying power means that becoming an elite by default is going to be nigh-impossible.
We need to accept that yo-yo European performances might be in the clubs near future. If the board never back him to keep a Suarez, or buy a Sanchez (the majority of the Reds buys since Brendan came in have been from the second or third tier of Europe) then it's going to take time to coach what he has to reach that next peak.
He nearly got there last year with plenty of coaching time, I'd give him the same time again that he has already had. After all, if the alternative is another project perpetually starting three years into the "five year plan" then what the point is even caring about the team? It will never reach a zenith, it will never develop.