Atletico Madrid and Liverpool FC Favourites to Win Respective League Titles This Season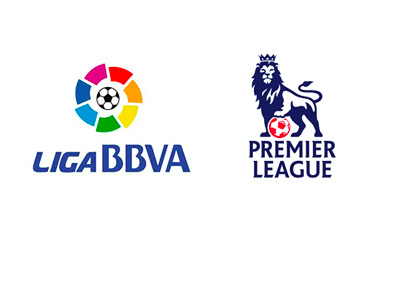 The Spanish La Liga and the English Premier League are the two most tightly contested races we have seen in years. To the surprise of many, this season has seen the rise of Atletico Madrid and Liverpool FC, who are the current favourites to win their respective domestic leagues with only a few games left in the season.
If Atletico Madrid win the next four out of five remaining games, they will be lifting the La Liga trophy for the first time since the 1995/96 season. Diego Costa & Co. are travelling to Camp Nou to face Barcelona in the last round of games, but may have the title all wrapped up before then. Atletico are a dominant force this season. They are also in the semi-finals of the UEFA Champions League, where they are facing Chelsea.
Here are the current betting odds to win the Spanish La Liga 2013/14:
Atletico: 5/4
Real Madrid: 5/4
Barcelona: 9/2
--
In the English Premier League, Liverpool beat Manchester City 3-2 at home on the weekend and took the leading position in the title race. There are four games left in the season for Liverpool FC and if they win them all, the title will be theirs for the first time since 1989/90. With Manchester City and Chelsea breathing down their necks, Steven Gerrard and his teammates do not have much room for error. The match to look out for is Liverpool vs. Chelsea on Sunday, April 27th.
The current odds to lift the EPL 2013/14 trophy are:
Liverpool: 4/5
Man City: 11/5
Chelsea: 9/2
--
With other major domestic leagues more or less wrapped up, the focus for the remainder of the season will be on the UEFA Champions League, the English Premier League and the Spanish La Liga.
Can the early underdogs, Liverpool and Atletico, go all the way?