Game Preview: Lithuania vs. Bosnia-Herzegovina - World Cup Qualifiers - October 15th, 2013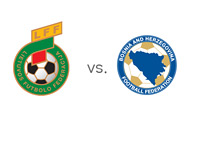 Bosnia-Herzegovina are heading to Kaunas on Tuesday, October 15th, 2013 to face Lithuania in the last round of World Cup qualifiers. A win would see the ex Yugoslav nation directly qualify for Brazil.
Bosnia-Herzegovina are in fine form at the moment. They are playing attractive football and scoring a lot of goals. So far in the qualifications they have hit the net 29 times and are the third highest scoring team behind Germany and Netherlands. Bosnia-Herzegovina are coming off a 4-1 home victory vs. Liechtenstein.
Lithuania have three wins, two draws and four losses so far in the qualifications. In their most recent game they beat Latvia at home with the score of 2-0.
Last time Bosnia-Herzegovina played Lithuania, on October 16th, 2012, in Zenica, the score was 3-0.
The odds for the upcoming match in Kaunas are:
Lithuania: 8/1
Draw: 4/1
Bosnia-Herzegovina: 1/3
The odds are heavily in favour for the guests. A 100 € on Lithuania could return 800 € in profit, while the same bet on Bosnia-Herzegovina could return 33 €.
The most likely outcomes on Tuesday, according to the odds, are 0-1 and 0-2 victories for the guests, both valued at 5/1.
Manchester City striker, Edin Dzeko, is the leading goalscorer for Bosnia-Herzegovina with 10 goals so far in the qualifications, followed by VfB Stuttgart forward, Vedad Ibisevic, who has scored 7 so far.
Lithuania has scored 9 goals so far in the qualifications and conceded 10. Deivydas Matulevicius and Edgaras Cesnauskis are the leading scorers with 2 goals each.
Can Bosnia-Herzegovina get all three points on Tuesday and qualify for their first major tournament?
This should be a great game!