Lionel Messi Sets New La Liga Goal Scoring Record with a Hat-Trick vs. Sevilla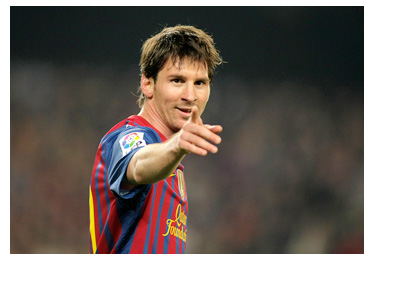 The magic Lionel Messi set a new La Liga scoring record on Saturday with a hat-trick against Sevilla FC. The twenty seven year old Barcelona number ten, having scored 253 goals in the Spanish league so far, is now the all-time top scorer in league's history.
The previous record of 251 goals, held by Telmo Zarra, stood for nearly six decades before Messi took it down. Since 1955 to be exact.
The Argentine superstar, Messi, joined the Barcelona youth academy when he was only 13 years old. He scored his first goal for the Barca A team in May of 2005.
On Saturday, D10S opened the scoring like this:
--
The Top 10 La Liga goalscorers of all time, as of November 23rd, 2014, are:
1. Lionel Messi, 253 (289)
2. Zarra, 251 (278)
3. Hugo Sánchez, 234 (347)
4. Raúl González, 228 (550)
5. Alfredo di Stéfano, 227 (329)
6. César Rodríguez Álvarez, 223 (353)
7. Quini, 219 (448)
8. Pahiño, 210 (278)
9. Cristiano Ronaldo, 197 (176)
10. Mundo, 195 (231)
The number in brackets is the number of appearances.
--
You can view all of Messi's 253 La Liga goals in the 30 minute video below:
--
Congrats Lionel Messi.
What a player!