Lille and St Etienne Battle for a Potential UCL Spot on Sunday, May 26th, 2013 - Odds and Betting Preview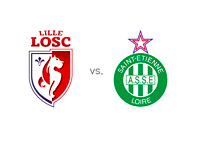 Fifth place Lille host fourth place St Etienne in the last round of the French Ligue 1 on Sunday, May 26th, 2013.
St Etienne already qualified for the UEFA Europa League by winning the Coupe de la Ligue last month. This means that one spot from League 1 that leads to the UEFA Europa League is open and it will most likely be awarded to either Lille or sixth place Nice. Both Lille and Nice are tied for points after 37 games played with Lille having a better goal differential.
This is a big game for both Lille and St Etienne. A win would guarantee Lille a place in the Europa League and give them an off chance of making it to the UEFA Champions League if Lyon, who are in third place and three points ahead, manage to lose their home match vs. 11th place Rennes. In a similar, unlikely, scenario where Lyon loses to Rennes, St Etienne would jump to third place and qualify to the UEFA Champions League with a win on Sunday.
St Etienne are in good form at the moment and in their last match they beat 2nd place Marseille at home 2-0, while Lille tied with 8th place Montpellier 0-0.
Lets take a look at the odds for the upcoming game:
Lille 10/11
Draw 12/5
St Etienne 3/1
Lille are the favourites to win at home. $100 wagered on Lille returns $90 in profit if successful, while the same bet on St Etienne returns $300 in profit.
St Etienne hosted Lille already three times this season. In their first match in Ligue 1, Lille won the game 1-2, in the second match in Coupe de la Ligue the score was 0-0 (St Etienne won on penalties) and finally in Coupe de France St Etienne beat Lille 3-2 to advance to the quarter-finals.
This will be an interesting match. Both teams will go hard for the win, while in the same time paying close attention to the score in Lyon.
Lets see how all this plays out!