Italian Serie-A Match of the Week: Lazio vs. Napoli - Game Odds
Update: Final Score -
Lazio vs. Napoli 1-1
--
The third place S.S Lazio are hosts to second place SSC Napoli on February 10th in the 24th round of the Italian Serie A at the Stadio Olimpico in Rome.
This is going to be a great match.
Napoli are only 3 points behind 1st place Juventus and they have won 5 out of their last 6 games. Most recently Napoli beat Parma 1-2 and Catania 2-0 at home.
Lazio have 6 points less than Napoli in Serie-A and their last two league games were losses vs. Chievo 0-1 at home and Genoa 3-2 away. In the 1st leg of the Italian Cup on January 29th, Lazio beat Juventus 2-1.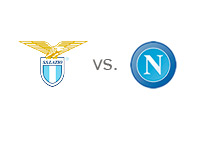 The betting odds are fairly even for this game. In the Italian Serie-A match of the week, S.S. Lazio are hosts to SSC Napoli. This article features game notes and betting lines.
Lazio 15/8
Draw 11/5
Napoli 6/4
This means that a successful $100 bet on Lazio would yield a total of $285, while the same bet on Napoli would yield a total of $250.
Both Lazio and Napoli have important games in the UEFA Europa league only a few days after this matchup. Lazio are visiting Borussia Monchengladbach while Napoli are hosts to Viktoria Plzen.
When Napoli hosted Lazio earlier in the season on September 26th, 2012 the score was 3-0 for Napoli. Edison Cavani scored all three goals in that match. Edison Cavani is at the top of the scoring chart in Serie-A this season with 18 goals.
Can Napoli pull a Victory in Rome and keep pace with Juventus for the top spot in the league? Or maybe Lazio can beat the hottest team in Italy at the moment and close the gap to 3 points?
How will this game play out?
We look forward to finding out on Saturday.