Jose Mourinho Named 'Coach of the Century' in Portugal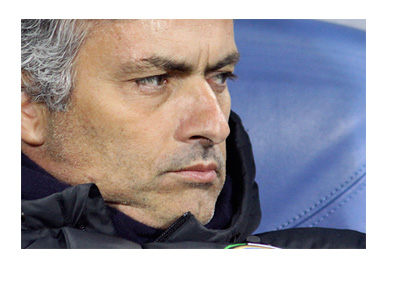 When Portuguese-born Mourinho took over the reins at club FC Porto in 2002, they were struggling at the 5th position in the local Primera Liga, knocked out of the Portuguese Cup and at the bottom of the Champions League. By the time he left the club in 2004, the Porto-based club had 2 Primera Liga titles, a Portuguese Cup, Champions League and a Portuguese Super Cup under their belt. Which is why even though Jose Mourinho spent the last 16 years of his career as a coach in England, Italy and Spain, his most treasured moments will be those he spent with FC Porto. Those moments were sweetened further when his home nation honored him the Portuguese Coach Of The Century award on January 15th, 2015. Mourinho considers his stint with Porto as the most successful in his managerial career and his proudest moment is when he won the European title with as many as nine Portuguese players in the team. Deco, Helder Postiga, Vítor Baia and Jorge Costa are some of the Porto players he groomed and shaped into becoming big names in Portuguese football.
Mourinho's showed his prowess as a manager when he joined Chelsea in 2004. Helped to some extent by Roman Abramovich's deep pockets he propelled the Blues to an unthinkable Premier League win after a 50-year long wait. He felled previous records of maximum points in a season by any team (95) and the least goals conceded (15). The Blues even reached the semi-finals of the Champions League where they were eliminated by a controversial goal from Liverpool. A power tussle with Abramovich resulted in him leaving Chelsea in 2007 and join Italian club Internazionale the following year.
Despite a stormy period in which he openly feuded with the likes of Ancelotti of AC Milan, Luciano Spalletti of Roma and Claudio Ranieri of Juventus, his term with Inter Milan was a success. Internazionale won the Supercoppa Italiana and ended up on top of the Italian League, Serie A. He was the first to see through Barcelona's possession-driven game and pioneered a defense stratagem that would so frustrate the Catalan club. Needing 2 goals at Camp Nou to eliminate Inter Milan from the Champions Cup, Barca rained in wave upon wave of attacks only to run into an impregnable Italian wall. The lone goal they got was not enough to keep them in the tournament. They lost 2-3 on aggregate. Mourinho described the 0-1 loss at Camp Nou in April 2010 as the "the most beautiful defeat of my life". He went on to steer Inter Milan to European glory that year by lifting the UEFA Champions League trophy by beating Bayern Munich 2-0.
His move to Real Madrid in 2010 wasn't marked by success though. In his first La Liga encounter with Barcelona at Camp Nou he had to bear the brunt of a 0-5 humiliation. But Mourinho for what he is didn't lie low. In 2012 he got his revenge in Camp Nou beating Barca 2-1 and going on to win the La Liga title with a 9-point difference. The Camp Nou win was Real's first in the La Liga after 2008 against their arch rivals. But his term at Madrid may not have panned out as well as he would have expected.
A defeat to Borussia Dortmund in the 2012-13 Champions League semi-finals and a 2013 Copa Del Rey loss to Atletico Madrid were some of the low-points of his Spanish career. Always someone to court controversies, his poking of Barcelona manager, Tito Vilanova, in the eye didn't do much help to his image in the Iberian nation.
June of 2013 saw him back with his old club Chelsea on a four-year contract. The Blues finished third in the 2013-14 Premier League season under him just 4 points behind winners Manchester City. 2014-15 promises to be even better for him with Chelsea currently leading the EPL table, entering strongly into the Champions League round of 16 and eyeing the FA Cup.
Although regarded by the likes of Pep Guardiola as the best coach in the world there are some who rile at him for his negative tactics. Johann Cruyff is one who feels the Portuguese doesn't care much about good football and more on results. The Dutch great went on to remark that playing at home with seven defenders meant that Mourinho was truly afraid.
But accolades and achievements outweigh criticism. Mourinho has won at least one trophy every year starting from 2002 to 2014. He went on a 150-match unbeaten league home run from 2002 to 2011. During his present stint with Chelsea, only a 2014 defeat to Sunderland ended a second unbeaten run of 77 matches at Stamford Bridge.
On receiving Portugal's Coach of the Century award, Mourinho remarked that just like he did at FC Porto a decade ago, he would love to write history at Chelsea. By the looks of it, he may be on the way to do so.
Surely, one can't remember anyone like him to come out of Portugal.