The King of Transfer Markets - Football 'Super Agent' Jorge Mendes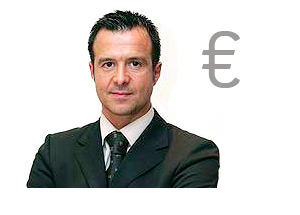 Jorge Paulo Agostinho Mendez, the Portuguese power broker and agent to over fifty of the world's top players, is one of the most influential people in the business of football.
The 48 year old Lisbon native, Mendez, has brokered well over €1 billion in transfers over his 18 year career, and is the current agent, friend and advisor of stars such as Cristiano Ronaldo, Radamel Falcao, Angel di Maria, James Rodriguez and Jose Mourinho.
Cristiano Ronaldo was quoted saying that Mendes is a 'fair and honest man' and that he trusts him 'completely'. Sir Alex Ferguson went on record saying that Mendes is 'the best agent I dealt with, without a doubt'.
Jorge Mendez speaks five languages and can be seen around Europe's airports carrying four cellphones in his hand. In the 2014/15 summer transfer window alone, Mendes earned €32m from provisions, by brokering transfers of James Rodriguez, Radamel Falcao, Angel di Maria, Diego Costa, Marco Rojo and Mangala, for a total of €250m in transfer fees.
Jorge Mendes' total client worth is believed to be €673m. He basically has the monopoly on Portuguese football and has, over the last 10 years, brought in €362m to Porto, Benfica and Sporting.
While many question the ethics and high prices behind some of the transfers Mendes has brokered, especially the ones involving the current Chelsea manager, Jose Mourinho, who is a client himself and often purchases players for his club directly from his countryman, it is widely believed that Mendes has the best interest of his clients in mind and that he encourages them to see out their contracts and respect their commitments.
In his younger days, Mendes was a semi-professional footballer and a former nightclub owner. Today he makes commissions in the area of 10% per deal and has, over his career, made well over €100m.
Jorge Mendes is the top business man in the world of football.