Odds and Preview for Italy vs. Argentina Friendly - August 14th, 2013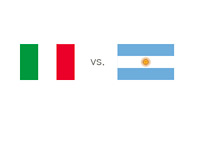 Italy and Argentina will play a match dedicated to Pope Francis on Wednesday, August 14th, 2013 at the Stadio Olimpico in Rome. The match is organized by the Italian Football Federation.
Pope Francis is from Argentina and he is a big football fan. The word is that both squads will have audiences with the pope at the Vatican.
Lionel Messi, Gonzalo Higuain and Angel di Maria are among the players called by Argentina for the friendly, while Italy has called up Gianluigi Buffon, Andrea Pirlo and Mario Balotelli, along with others.
Update: Lionel Messi and Mario Balotelli will miss the upcoming match.
Italy and Argentina last met in 2001, also at a friendly match in Rome; during this match, the South American team came out on top with a 2-1 victory. The two teams also met in the 1990 World Cup semi-finals in Naples, where Diego Maradona's Argentina knocked the hosts out via penalties.
The odds for the upcoming match in Rome are:
Italy: 5/4
Draw 21/10
Argentina 21/10
Italy are the favourites to win this Wednesday. A $100 bet placed on Italy could return $125 in profit, while the same bet on Argentina could return $210 in profit.
Italy played several matches at the FIFA Confederations Cup in Brazil this summer, where they showed decent form. Italy finished 3rd, behind only Brazil and Spain.
Argentina played their last match on June 14th, a friendly vs. Guatemala, where they won 4-0. A few days prior to that match on the 11th of June, Argentina tied Ecuador 1-1 in the World Cup Qualifications.
Italy and Argentina are among the football greatest nations; to see them face each other for the first time in twelve years will be a treat!
Hope you are able to catch the match!