New Summer Football Tournament - The International Champions Cup 2013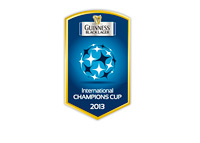 Most domestic competitions are finished for the season and the UEFA Champions / Europa Leagues are all wrapped up. Aside from the transfer season news, what is there to look forward to in the world of football for the next few months?
Luckily for all of us jonzing for action this coming summer, a new tournament has formed: The International Champions Cup 2013. The ICC will run from July 27th until August 7th, it will be played across the United States and it will feature eight of the top teams in the world.
These teams are:
AC Milan
Chelsea
Everton
Inter
Juventus
LA Galaxy
Real Madrid
Valencia
The tournament will be played in six U.S. cities and one European city. After a series of elimination matches, the final will take place on August 7th at the Sun Life Stadium in Miami.
The tournament is sponsored by Guinness and the network that will broadcast it is still unknown. The lucky U.S. cities that will have the pleasure of watching the International Champions Cup live are Phoenix, Los Angeles, Indianapolis, New York and Miami. The one European city that will be a part of the tour is yet to be announced.
The ICC is organized by Miami Dolphins owner Stephen Ross and his RSE Ventures firm. The International Champions Cup is evolving from what used to be the World Football Challenge tournament which ran from 2009 until 2012 and was broadcast on ESPN.
The ICC Sounds like a pretty good addition to a quiet football summer of 2013. The player transfer window in Europe is between July 1st and August 31st, which means that the tournament will offer fans a partial preview of what they can expect in the new season in terms of team line-ups, strategy etc.
The tournament format has not been announced, but information has leaked out that all eight teams will play at least one game in Miami, which will host a pair of double-headers in the month of August.
Looking forward to the International Champions Cup 2013!