Inter Milan vs. AC Milan - Betting Odds - Serie-A
In the 26th round of Italian Serie-A, Inter Milan are hosts to AC Milan at the San Siro stadium on Sunday February 24th, 2013.
This is an important game. AC Milan are in 3rd place with 44 points while Inter are in 5th place with one point less.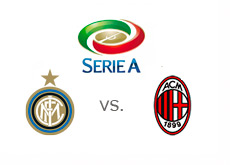 AC Milan are rejuvenated in the league with the arrival of Mario Balotelli who has scored four goals in his first three matches. They have seven points out of their last three league games and most recently the beat Barcelona at home in the UEFA Champions League. AC Milan are on fire right now.
Inter Milan have managed to get only three points out of their last three league matches and most recently they beat CFR Cluj 5-0 on aggregate in the UEFA Europa League.
Inter 11/5
Draw 23/10
AC Milan 5/4
A $100 wager on Inter could potentially bring in $220 in profit while the same wager on AC Milan could potentially bring in $125 in profit.
AC Milan are the favourites.
When the teams met on October 7th, 2012 in the league Inter won the game 0-1.
It will be interesting to see Mario Balotelli facing his former team where he played for four years (2006-2010) and where he made his name before moving to Manchester City and just recently AC Milan.
Can AC Milan continue their awesome momentum and win the game against their bitter city rivals? How will the UEFA Champions League and UEFA Europa League hangovers affect the teams this Sunday?
The Milan Derby, or the Derby della Madonnina as it is known in Italy, is one of the greatest matchups in European football. Be sure to tune in this Sunday as the two teams battle for the top 3 spot in Serie-A that leads to the UEFA Champions League next season.
Inter will be playing without their star striker Diego Milito who suffered a knee injury in the Europa League game vs. Cluj. He is expected to be out for nine months.