The International Champions Cup - Real Madrid vs. LA Galaxy - Game Preview and Odds - Aug 1st, 2013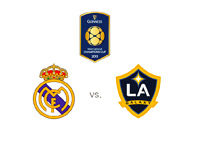 Real Madrid face LA Galaxy in the first round of the International Champions Cup (ICC) 2013 in Phoenix, Arizona, on August 1st at 7.30pm MST.
The ICC is a pre-season tournament held across the United States. The bracket features some of the top football teams including Juventus, Milan, Chelsea and Inter. The final is held at the Sun Life Stadium in Miami, Florida on August 7th, 2013.
Real Madrid have a full squad for the upcoming match against Galaxy. Iker Casillas and Sergio Ramos are back from holidays, while the rest of the team has already played a few games this summer, including a recent 1-0 win over Paris Saint-Germain in Sweeden. The situation in Madrid seems calm since the arrival of the new coach, Carlo Ancelotti, and the team is performing well. Cristiano Ronaldo is in good form and the newcomer, Isco, has been getting a lot of play time.
LA Galaxy is Major League Soccer's (MLS) most recognizable team and it features popular footballers such as Landon Donovan and Robbie Keane. They are currently in the fourth place in the MLS Western Conference with 33 points after 22 game played.
The odds for the upcoming game in Phoenix are as follows:
Real Madrid 1/4
Draw 4/1
LA Galaxy 7/1
Real Madrid are the favorites to win, and a successful $100 bet on 'Los Blancos' returns $25 in profit. The same bet on LA Galaxy could return $700 in profit.
The most likely score, according to the odds, is a 3-0 victory for Real Madrid offered at 8/1 (bet $100 to profit $800).
This should be an entertaining game. It will be great to see the new Real Madrid in action and good to see how LA Galaxy performs against such a strong European opponent.
The winner will face Everton on August 3rd, 2013 in Los Angeles at the ICC semi-final.
Hope you get to enjoy the match!