LA Galaxy vs. AC Milan - Game Preview and Odds - The International Champions Cup 2013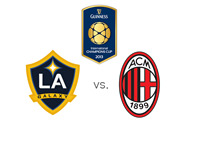 LA Galaxy will meet AC Milan in the International Champions Cup game for third place on August 7th, 2013 at the Sun Life Stadium in Miami Gardens.
So far in this pre-season friendly tournament, LA Galaxy lost to Real Madrid 3-1 in the first round and then beat Italian champions Juventus 3-1 in the second round, while AC Milan beat Valencia 2-1 in their first game and then lost to Chelsea 0-2 in the second.
The odds for the upcoming game in Florida are as follows:
LA Galaxy: 14/5
Draw: 11/4
AC Milan: 7/10
AC Milan are the favourites. If successful, a $100 bet on AC Milan could return $70 in profit, while the same bet on LA Galaxy could return $280 in profit.
LA Galaxy, coached by Bruce Arena, are in the middle of their Major League Soccer (MLS) season at the moment. The team's most recognizable names are Landon Donovan, Omar Gonzales and the Irish striker Robbie Keane.
AC Milan have had a busy summer playing friendlies. Just a little while ago they participated in the Audi 2013 Cup in Munich, where they lost to Manchester City 5-3 and then beat Sao Paolo 1-0 in the game for third place. The most recognizable names on the AC Milan team are Robinho, Stephan El Shaarawy, Philippe Mexes and Kevin-Prince Boateng.
The International Champions Cup is a tournament where teams get to test new formations and tune-up their game in preparation for competitive matches. The average number of substitutions per team in a given game is between 7-10.
This should be an interesting match: Can LA Galaxy pull off another upset against Italian opposition, or will AC Milan take this match seriously and go into the new domestic season with some positive momentum?
The game start time is 6.30 PM EDT.