Game Preview: Germany vs. Austria - World Cup Qualifiers - September 6th, 2013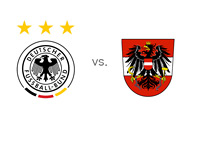 Germany meet Austria in the seventh round of World Cup qualifying matches in Group C on Friday, September 6th, 2013 at the Allianz Arena in Munich.
After six matches played, and with four more to go, Germany are at the top of the group with 16 points, while Austria share the number two spot with Sweden and Republic of Ireland, who all have 11 points.
Germany have won all their matches so far in the group, except for the 4-4 draw against Sweden in Berlin, which featured an epic comeback by the Swedes after going down 4-0.
Austria have so far lost only one match in Group C. The loss came in Vienna against Germany (1-2) in the first round. Austria most recently beat Sweden 2-1 on June 7th.
This is an important match for both nations. With a win on Friday, Germany could further separate themselves from the others in the group and be in an excellent position to qualify for the World Cup in Brazil directly. Austria are playing Republic of Ireland and Sweden next and points from the match in Germany would be huge.
Let's take a look at the odds for the upcoming match in Munich:
Germany: 2/11
Draw: 6/1
Austria: 12/1
Germany are the big favourites to win on Friday. A 100 € bet on the hosts could yield 18 € in profit, while the same bet on Austria could yield 1,200 € in profit.
Mario Gomez, Miroslav Klose and Thomas Muller are the favourites to score for Germany at 8/13 (bet 100 € for a chance to profit 61 €), while Philipp Hosiner is the favourite to score for the guests at 11/4 (bet 100 € for a chance to profit 275 €).
The most likely score on Friday, according to the odds, is a 2-0 victory for Germany, valued at 13/2 (bet 100 € for a chance to profit 650 €).
Germany will be without midfielders Schweinsteiger and Gundogan due to injuries.
This should be a good match!