Gareth Bale is Going to Real Madrid According to the Odds on August 1st, 2013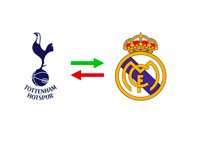 Just a few days ago, the odds for who Gareth Bale will play for in the new season were still in favour of Tottenham. The numbers have changed significantly since, and Real Madrid now have the highest odds of becoming the Welsh player's home come September 3rd, 2013.
On July 27th, this is what the odds looked like:
Tottenham: 1/2
Real Madrid: 6/4
Manchester United: 14/1
PSG: 33/1
Monaco: 40/1
Chelsea: 50/1
Barcelona: 50/1
Manchester City: 50/1
Bayern Munich: 80/1
On August 1st, the situation is as follows:
Real Madrid 1/3
Tottenham 9/4
Manchester United 20/1
Monaco 33/1
It has been widely reported that Gareth Bale himself is pushing for a transfer to Madrid, and that both clubs are in advanced stages of negotiation.
A $100 bet on Real Madrid to be Gareth Bale's home on September 3rd, 2013, the first day after the summer transfer season end, returns $33 in profit.
This transfer looks to be a record breaker and it will be very interesting to find out the final numbers from the deal, if indeed the deal takes place.
Real Madrid are in a rush to get this signing done so that the player can have as much time as possible to adapt to the team before the new season begins.
We will keep you posted on the latest from the Gareth Bale transfer saga.